For your discounted Passport and Visa services be sure to enter our account number 45541 in the box on the upper right side of the first screen. This will help save you some money.

Certifications: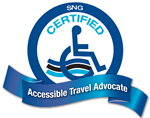 Avalon Waterways - Specialist
Azamara Club Cruises - Five Star Agent
Bermuda Board of Tourism - Bermuda Specialist
Carnival - Bachelors of Fun
Cayman Islands - Dive & Nature Master Specialist
Cayman Islands - Master Specialist Family Travel
Celebrity - Five Star Agent
Costa - Training Academy Graduate
Cunard - Commodore
InnerSea Discoveries - Adventurist
Norwegian Cruise Line - Freestyle Certified
Oceania Cruise Specilist
Princess - Commodore
Regent Seven Seas Univerity Graduate
Saint Lucia Specialist Graduate
SNG Certified Accessible Travel Advocate TM
Legend of the Seas June 2011
Houston to Asian Cruise back to Houston:
We embarked on a round the world trip in celebration of our daughter's birthday. We flew to Singapore the embarkation port, via both London and Bangkok. This was a mileage reward ticket, however if I had flown Singapore Airlines instead I would have still flown via Europe, just via Moscow instead.
Traveling to Singapore:
What a smooth process our trip was. We arrived about 10 minutes late to Singapore and were quickly to the hotel, in fact probably arriving at the hotel about 30 minutes ahead of when we expected we would. We really lucked out with our Taxi Driver...not only was he efficient getting luggage in the trunk so we all were comfortable in the vehicle, he was like a tour guide during the entire drive. Ironically he was back for a week from a 3 night cruise with his wife and son. He was so excited about the RCCL experience he just had! We toured part of the city on a hop on - hop off bus which didn't take too long especially since we had to pretty much stay on since the last bus was not far behind. We chose to eat in the nearby mall and settled for Subway for simplicity and ease of getting back to the room and to bed. I noticed everything around was mostly spelled out in English, many places had no Manderine characters spelled out for anyone.
Day 1 Saturday, what a great day:
Today we departed from Singapore. Sad to say our taxi driver today was nothing in comparison to the guy we had the day before who was super welcoming etc...The first great taxi driver is more typical of what we experienced during the short stay in Singapore and on the ship, positive, friendly, helpful folks who go out of their way to welcome tourists. We checked out of the hotel and moved towards the port. It was really quite a short trip to get there and cost about $6 USD from our hotel which was well located. I would recommend using the same hotel to guests who are willing to venture to SE Asia for a cruise. It is a great opportunity to not only enjoy an RCCL cruise but also soak in a different culture.
Day 2 Sunday - sea day:
We met up with friends for a brief get together and enjoyed smooth seas as we cut the water at 27mph on the way North from Singapore to Vietnam. The ship Legend of the Seas is about half the size of what I cruise most, but perfect for where we are going. Dropping a couple thousand folks on the town is good enough, like in Alaska. We were 15 - 30 minutes late leaving due to mass passenger load who all arrived back at the same time due to the bulk of the passengers going on ship tours which all arrived back at the same time. This is a not a problem in any way since there is built in time to get between ports and the short delay was super minimal.
Day 3 Monday at Vietnam:
We arrived in the morning for an enjoyable day in Nha Trang, Vietnam. What a beautiful beach resort city. In many ways it reminded me of the outskirts of Havana, Cuba. (I've been there on a mission trip.) Here we opted for a Countryside tour as part of the offerings by RCCL. The tour was nice in terms of what we saw, but sadly it lacked a really good English speaking guide. We also had folks on our bus who decided not to follow instructions from the ship and who went ashore on their own and ended up waiting in the bus a long time. The tendering operation was in full swing and moving as fast as they could safely move people back and forth. In talking with the deck officers later in the day (our baclony ends at the bridge wing where the deck officers stand as we depart or arrive ports depending on which side of the ship is being tied up) I found out there is a whole certification course for the folks who run the tenders. We enjoyed the headliner show. She is a pianist and singer from California. What made it really special was during the show she announced to a nearly full theater that our daughter had come part way around the world to celebrater her birthday...which drew applause from the friendly passenger crowd. The entertainer also gave Tori as a gift an autogrphed CD.
Day 4 Tuesday:
This morning we sail towards Sanya, China with a planned arrival time of 1pm. This is a bit later than you would typically arrive into a Caribbean Port but that is OK. We stayed around the ship and were among the last to get off since we did not have a tour. We took the shuttle into town to the shipping mall. It was great because on the bus with us were all the crew who take care of us and about 20 others who all greeted my daughter. She appreciated all the attention. Riding back from the mall to the ship was a great sightseeing opportunity. We got a chance to see a lot of new construction in this resort area of China. One of the building is apparently going for $25K per square meter, now that is expensive real estate.
Day 5 Wednesday:
It's an easy day at sea before a 5pm arrival into the Hong Kong area. We were told that around 3:30pm onward we will see the Hong Kong area around the ship which is a beautiful harbour in which to sail. To that end I expect after lunch we will get done things we need to have done so we can watch the sail into port. Today is the day Tori gets to blow the ships horn as part of the on board auction to raise money for Make a Wish Foundation. This is a great charity. I suspect we may figure out how to integrate ranch visits for kinds into our ranching business plan, not to make any money but to help make a kids wish come true. We have contributed on pretty much every cruise latetly towards the Make A Wish fundraising efforts. Tori is now an official horn blower on RCCL.
Day 6 Thursday:
We left Hong Kong at 1am...after waking back up to watch departure I sat on the balcony until we passed the last of Hong Kong and headed far enough offshore that we could discharge filtered waste water etc...and be in international waters so the shops and casino could remain open. This was a nice relaxing day on the ship where we could do pretty much what we wanted when we wanted to do so.
Day 7 Friday:
Our last full day at sea as we headed into Shanghai. Per the noon announcement we would be picking up the pilot around 1am...no need to watch that, I needed to get sleep this evening since we had an active day planned for Saturday. We has the suites guest tour of the bridge. Funny thing was it appears only 4 persons out of all suite guests decided to do the tour, the couple who was with my daughter and me (my wife decided to enjoy the cabin instead) was an Aussie couple who lives in Hong Kong where he works as a 777 Captain for Cathay Pacific. It was a great combo of folks on the bridge, small enough group that we actually split 2 of us talking to the first office and 2 talking to the second office. Again Tori was asked to change the ship's course as we had just gone around other marine traffic and needed to get back on course. The Captain was up there part of the time and showed us the weather (cyclone) behind the ship following us. He answered additional questions and generally as he had the entire cruise made everyone feel very welcome up there on the bridge and on the ship.
Disembarkation Day:
Saturday as with any other disembarkation day was sad as we had to leave our home away from home over the past week. We had such incredible service on the ship going to a hotel and then back home was quite a change. The disembarkation process was a bit of a mess thanks to the port authority moving/changing the location of the dock and modifying the entire process. Ultimately we were about 2 hours delayed from where we expected to be in terms of when we were clear of all formalities and free to enjoy our tour of Shanghai. I set up a tour for my family and several couples who we met on Cruise Critic. We had a private guide and a relatively small group to tour Shanghai and then drop us all off to our respective hotels. (One couple did take a private car to the airport towards the end of the tour, in fact from the final stop.) The tour went well despite the late start and rainy weather. We did a drive thru of the very last site as it was raining and we were all pretty worn out by that point. We arrived at our hotel and checked in without any real difficulty. Check-in is a bit more involved here because of the need for them to track passport information etc...but we were in and on the way to our room in due course. We stayed on the Concierge Level so we could access the concierge amenities while at the hotel. That actually cut down on dinner costs 3 nights as we just grazed the huge offering in the concierge lounge.
Shanghai and return to Houston:
Our trip home was relatively smooth. We had relatively bad seats on the Air Canada flight home but all three of us were together which was key. We arrived Toronto and went to the hotel for the night, got up early back to the airport for the rest of the trip home. We were back into the swing of things at home after lunch on our return day.
Extra Documents & Pictures
Below are some of the pictures we brought back from this cruise.