For your discounted Passport and Visa services be sure to enter our account number 45541 in the box on the upper right side of the first screen. This will help save you some money.

Certifications: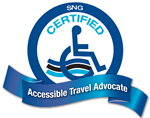 Avalon Waterways - Specialist
Azamara Club Cruises - Five Star Agent
Bermuda Board of Tourism - Bermuda Specialist
Carnival - Bachelors of Fun
Cayman Islands - Dive & Nature Master Specialist
Cayman Islands - Master Specialist Family Travel
Celebrity - Five Star Agent
Costa - Training Academy Graduate
Cunard - Commodore
InnerSea Discoveries - Adventurist
Norwegian Cruise Line - Freestyle Certified
Oceania Cruise Specilist
Princess - Commodore
Regent Seven Seas Univerity Graduate
Saint Lucia Specialist Graduate
SNG Certified Accessible Travel Advocate TM
Mariner of the Seas December 2011
Galveston to Galveston Round Trip Sailing.
Sunday: Embarkation Day -

Mariner of the Seas was into Galveston on time to offload passengers from the prior cruise and load all of us aboard.  Unfortunately due to bad luck there were a number of passengers who suffered gastro-illness on that prior cruise, which lead to a massive scrub down of the ship between cruises.  As such, embarkation was delayed by a few hours. (I was so glad to have a friend already aboard with whom I chatted and learned ahead of time that there were issues including a delayed boarding.)  The late boarding process led to a delay in departure from Galveston.  

Beyond the unavoidable delays, which were necessary for the ship cleaning process.  Of course it is far better to be safe and sanitary so no health issues will come up during our cruise. To me other than boarding late there really were no issues with getting on the cruise or underway. We just had less time to explore than we typically have at the beginning of a cruise.

I personally was tired after a long day…one in which I got less done than expected but again, I would rather see a really clean ship that promotes folks staying healthy than get aboard earlier and end up sick.  We finished the day dining with some friends who were already aboard on a 3 week double back to back cruise. It was a great dinner in Portifino and towards the end of dinner we were even joined by the Executive Chef for an hour of conversation. Dinner was quite a nice experience.
Monday: Day at Sea -

Today started out well as we were underway and everything was basically on my own schedule at this point going forward. I went and worked out after getting up late today. Tomorrow I will be getting up earlier and working out right away.  Back on today, it was a lazy day doing whatever we wanted as the day went on.  I even attended a Jamaican speak class to get to know some of the slang chat they use in Jamaica.

The weather today was nice, as we had moved well South of Galveston/the US Gulf Coast where it was much warmer. By evening we were approaching the Mexican Yucatan peninsula. Wave action was nothing to bother me but enough to let you know you are on a ship. It is no worse than the minimal turbulence on a Trans-Pacific flight heading East back to the USA catching the jet stream.

We ate dinner tonight in the My Time Dining area of the Main Dining Room, on Deck 5 for Mariner of the Seas.  Dinner was great and the service went smoothly with friendly hard working dining crew making sure we were served quickly. Of course had we wanted to drag dinner out for a couple of hours that also would have worked well.

Today we attended the captain's reception where he indicated there are over 3300 passengers aboard and over 1200 crew.  Passengers come from 37 countries and crew from 67.  US passengers account for over 3100 of the passengers with about 200 coming from 26 other countries with only a few countries with 10 or more passengers.  It is always neat to hear this information.

This evening was great for watching the moonlit waters from the balcony in balmy air. As you may guess I really like having a balcony when sailing. In fact for this cruise I have a Junior Suite that I am sharing with my mother who joined me on this cruise. I am enjoying the Dazzling Diamonds December Celebration that Royal Caribbean is hosting for the second year on all ships.  
Tuesday: Cozumel, Mexico -

We were due to arrive today at 0700 into Cozumel and have a shore excursion set up to meet at 0915 so we get to do a bit of shopping ahead of the tour.  We actually arrived early today which was nice. I watched our arrival from the gym where I am getting a new workout routine going. Yes, even on a cruise it is possible to work out every day, in fact several times per day if that is your desire.

The weather was sunny on arrival although as I type I see a few dark clouds covering the surrounding area. I am sure they will blow away soon as the forecast is for good weather all day.  Of course much of my shore excursion is indoors so if it rains it will not spoil my day. We will be taking the cooking class offered in Playa Mia. After cooking we eat lunch with that being what we all cooked up. We also have access to a full bar and a beach. I am hopeful (and will report) if internet is available and at what charge if any at the Playa Mia location.

The cooking class at Playa Mia was excellent. The food came out great and was plentiful. When we sent it back to the kitchen to be held and later served, it came out with side dishes served on the plate as well. I cooked the fish dish while my mother cooked a chicken dish. Everyone pairs up with someone else, could be the person you came with or a stranger it is up to you, to complete the cooking tasks. Everyone starts with a lesson on how to wash your hands to ensure a sanitary cooking environment.  Also, they make sure everyone has their drink of choice right from the start.

Back on the ship, well ahead of sail away time, I got to enjoy the ship. Later as we neared sail away time, I had the pleasure of watching from the balcony to see who was late getting back. Yes, folks were late, which is pretty normal in Cozumel unfortunately. Departing a bit late though does not usually cause problems when on only a few hundred mile transit to the next port.

This evening we attended the Crown and Anchor Welcome Back party which was nice. They had a great Country Band playing and even a juggler there to help entertain the crowd.  I was glad not to be the guy brought up onto stage to help the juggler.  We then watched a friend receive the award for the third highest number of cruise points on this cruise.  We were also introduced into the new advertising campaign, the Sea is Calling, Answer it Royally!

I am really looking forward to calm seas in Cayman tomorrow so we can get ashore. As those who read my Celebrity Millennium review know I missed Cayman last time we were scheduled to go there due to Hurricane Rhina in the area affecting the weather.
Wednesday: Georgetown, Grand Cayman -

Again this morning I got up and worked out. As has been my experience, I saw mostly the same folks as were working out on prior days. The crowd is also dwindling as is typical on a cruise. Many folks like to work out on day 1 and day 2 and then prefer to sleep in.  At times it would be easier to just sleep in honestly.

The wave action is definitely affecting the ship today. The waves aren't overly huge but are big enough combined with a stiff wind to rock the boat some. It is not bad for me, but the odd wave strike really bangs the ship around as was noted by everyone in the gym a couple of times, once nearly knocking a few fellow cruisers off their treadmills. 

Oh well, I sure hope we see calmer seas in a couple hours as we approach Grand Cayman. I know a couple weeks ago the weather caused the ships that day to tender to a smaller tendering port.  That port is apparently a bit of a drive from Georgetown which is where many folks were disappointed.  Either way I will be glad to enjoy more time in Cayman.

As we pulled into the shadow of the island we found that the seas calmed. I don't yet know the status of Stingray City one of the most famous sites here in the Cayman Islands. Often when the waves blow hard from the North it can close down Stingray City as that sandbar gets too much wave action.

We waited a couple hours before going to shore. When we did we saw a small crowd as there were three cruise ships, 2 Carnival and ourselves in port today. The weather remained primarily overcast which was not too bad. With the cool breeze blowing across the island it made for an overall nice weather day on the island.

We shopped and eventually ate lunch at Jimmy Buffett's Margaritaville where we had access to free internet while there. This was nice as I needed to download a few large files which would take a long time (costing a lot of dinero) if done on the ship via the satellite. It all went smoothly and when we finished the surfing we looked for one more shop to have a look at some shirts and then head back to the ship.

Boy was timing good for getting back to the ship. We walked to the line and slowly got thru preliminary security. Then off to the tender and not long thereafter we were sailing back to mother ship. Several hours later and the ship sailed on to Jamaica for a port day again tomorrow.

This evening I attended a Diamond and above special event with senior officers of the ship. Of course we were missing a couple of senior officers as we sailed away since they were on the bridge getting us off and on our way to the next port of call.  After a while we enjoyed another good dinner in the My Time Dining venue. Later it was off to bed to get rest and start the whole daily process all over again.
Thursday: Falmouth, Jamaica -

I woke up at 5:25am today and we were already pulling into the dock early. I am not sure why we arrived two extra hours early and will be interested in hearing the reason.  So far it is a partly cloudy morning here in Jamaica. It is also fairly windy and we are hit by the wind pushing us against the pier…making for a bouncy day so far.

I've been up to the gym and worked out. I hope the next two days go as well since it is important to me to get a good exercise routine working again.  The gym contained the same folks I've seen other days and as predicted fewer people than on prior days.  It is a good guess that by the last day we will see few folks up there. Some of this is folks wanting more rest before going home while other reasons include that some folks find new ways to spend time aboard the ship.  Mariner and similar ships have so many venues that new cruisers especially often take a long time to get a good grasp of all the venues around the ship available to everyone.

Today I plan to shoot a bunch of video around the ship showing various venues and helping folks understand how/why cruising is so much fun.  We will also walk around and see what is new in Falmouth today. This is my third trip here in under six months and will be back again in 13 days so have seen and will see again the port.

We are now back on the ship now and learned our early arrival was indeed due to the need to have all crew provide a full ship scrub down.  With now more people sick than last week, it has become a necessity.  It seems we also are down several activities from what is normal even on a port day. I wonder what tomorrow will bring.

Everywhere the crew is cleaning the ship. Managers are going around the ship inspecting areas after they are cleaned. It is quite an interesting sight to see such a cleaning effort take place. It's so sad that it's necessary to have such a cleaning.

Overall, Falmouth is an interesting port, one which was developed by Royal Caribbean to revitalize this area of Jamaica and provide an opportunity to get the best of Ocho Rios and Montego Bay both of which are maybe an hour in either direction out of this port.
When we depart in a few hours we will embark on a nearly 60 hour transit back to Galveston.  During this time typically we get to do a lot of on-board activities. Hopefully the illness outbreak doesn't cause too many problems for the ship delivering that wow the remainder of the cruise.  If it does I will still go out of my say to have fun regardless.

This afternoon I had the opportunity to watch as the stabilizer was removed for repairs. Unfortunately, as the process unfolded, things did not go well and ultimately the stabilizer sank along with the lift bags to the bottom of the berth. I suppose tomorrow the dive crew will be working with it again to get it out of the water and onto land.

We finally departed port nearly 5 hours late today. On a positive note we have a good 2 know cushion between planned and available cruise speed allowing us to make up time on the way back putting us, at least based on plans, at the dock on time.
Friday: Day at Sea -

I woke up earlier than I expected this morning. Actually it was light out before the predicted sunrise timeframe.  I relaxed for a short time before getting workout clothes on and heading to the gym to work out. I decided to change up my workout routine today for a different workout which was nice.

I headed down for a drink blueberry muffin at Café Promenade.  After that quick breakfast I was back to the cabin to enjoy some ocean-watching as we sail our way back to Galveston. Then I headed back to the cabin to chill out and for a shower.  It was then time to look at what is going on today and decide what I want to attempt to see and do.

The day has gone well. It's a fairly active day around the ship with activities of all kinds taking place around the ship.  Several activities even overlap one another.  One I watched was the International Belly Flop Competition. This event is hosted aboard all of the RCCL ships at some point during each cruise.  It is fun to watch, and if you like to make a scene or be the center of attention participation is another way to have fun with the contest.

Later this evening we have a higher tier welcome back party to attend, it's for those who have achieved the Platinum or above status in RCCL's Crown and Anchor society. On this cruise I move from Diamond to Diamond Plus while my mother moves from Emerald to Diamond status. One of my friends is due to receive a mile marker award on this cruise as well.

We enjoyed the chef's dinner in which lobster tails were the featured entrée. The service was a bit slower than normal but it seems everyone showed up early for their My Time Dining reservation which probably is why things were amuck. It all worked out fine and the quality of service and food was on the mark despite service being a bit slower than all of the other nights. 

The higher tier party was very nice. The country music band out of Tennessee was fantastic. If you have read the other reviews you will know I seldom comment on the music, but these guys deserve a mention. We enjoyed watching folks get awards for lots of prior cruises. Then we stayed and listened to more of the country music.  The name of the band is the Mickey Utley band.

Overall this was a great day at Sea. We have one more sea day and then I arrive home once again.
Saturday: Day at Sea -

Another great start to a day at sea. I worked out for my last time on this cruise. It was refreshing although sleeping in would have been nice. Maybe Tuesday or Wednesday I can sleep in a bit.   The weather is nice and we are sailing in calm seas with maybe 1' seas.
So far I have attended the Captain's Corner where he fields questions about the ship, crew, and cruise. Of course questions about the Norovirus came up and we were told it is under control. They said tomorrow there will be another huge cleaning day where everything will be wiped down again. I guess that means those planning to board will be delayed getting aboard tomorrow.  For us I will be glad we are going home even though I really enjoy cruising. It is always nice to get back to my wife and daughter.

I went and saw the ice sculptor working on a demonstration piece of ice out by the pool deck. It was really kind of funny to see so few folks in the pool itself.  His sculpting skills are really quite amazing and his works are on display at various locations and functions around the ship.
I got to go on a special tour of parts of the ship seldom seen. It was an incredibly great experience especially seeing crew members who seldom see guests and were all smiles when they saw us. (Sorry don't ask to see pictures as they are not available for positing online.)
I still have a few activities planned for later in the day.  Once I have my room service lunch I will then head off to take care of those fun activities. I will go take my spins on the slot machine and pick up some pictures in the photo gallery. I may even go grab a bottle of duty free booze to take home as a shipboard souvenir.

The day went well. We are now packing up to get off the ship tomorrow. It will be a very long day for the crew, all of whom must be up early and will work hard all day helping to clean the ship from top to bottom as a result of the norovirus outbreak.

Sunday: Disembarkation Day –

Getting off the ship was a bit of a mess for some reason. Not a big deal just made some of us 30-45 minutes later getting home than we planned. Overall the cruise was great so this was minimal.

Sadly, this will be a tough day for the crew since they get to decontaminate the ship once again to ensure the next cruise starts off super clean.  Hopefully for the Christmas cruise that departs the day we get off the ship, they will have no virus outbreaks to contend with.
On a positive note, I will cruise again and add more reviews in the near future. It is worth checking back periodically to see what new cruise reviews I have published and what cruises I most recently sailed.
Additional Info on this Cruise