For your discounted Passport and Visa services be sure to enter our account number 45541 in the box on the upper right side of the first screen. This will help save you some money.

Certifications: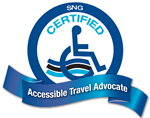 Avalon Waterways - Specialist
Azamara Club Cruises - Five Star Agent
Bermuda Board of Tourism - Bermuda Specialist
Carnival - Bachelors of Fun
Cayman Islands - Dive & Nature Master Specialist
Cayman Islands - Master Specialist Family Travel
Celebrity - Five Star Agent
Costa - Training Academy Graduate
Cunard - Commodore
InnerSea Discoveries - Adventurist
Norwegian Cruise Line - Freestyle Certified
Oceania Cruise Specilist
Princess - Commodore
Regent Seven Seas Univerity Graduate
Saint Lucia Specialist Graduate
SNG Certified Accessible Travel Advocate TM
Voyager of the Seas Christmas 2011
New Orleans to New Orleans Round Trip Sailing.
Friday: Head to New Orleans-

We got going bright and early and found the roads to be less full than expected as we headed over to New Orleans. Once there we explored some of the city including areas which were flooded with several feet of river water after Hurricane Katrina a few years back.
We met up with some fellow cruisers in the French Quarter for dinner this evening so we would know a few of the faces (3600 passengers on this cruise) who would be cruising with us.

Saturday: Embarkation Day -

We headed over to the ship fairly early on boarding day to avoid the traffic headaches that have been reported in the port area on departure day. Fortunately for us it was smooth sailing. I didn't watch my watch specifically, but do know that it didn't take too long to get processed thru and up onto the ship. We were probably in the first 100-150 passengers on the ship and found ourselves a great spot in Café Promenade for lunch while waiting on the cabins to be opened.

As we waited I met one of the other fellow cruisers whom I helped to arrange a surprise engagement. It was good to know who in person he was so we could more easily watch the events unfold on Sunday as he proposed to her at Bingo.

We sailed about an hour late due to luggage loading and after that was finished then some river ship traffic. This was not a big deal as one hour doesn't affect the arrival time to Cozumel any.  It was neat seeing stuff as we sailed down the river to the Gulf of Mexico. I doubt I will wake up early to see us sail up the river though on the return.

Sunday (Christmas): Day at Sea -

Today was a very nice calm sea day. Santa arrived on the Sports Deck with no issues and moved on down to Studio B for distribution of gifts to all of the good boys and girls.  Those who did not make the good list, well nobody knows what happened to those kids as they were out of sight.

It was a great peaceful day at sea. And then there was the announcement, nope not a fire or medical emergency; it's BINGO time…actually my daughter and I were really quite excited about that announcement because it meant we were closing in on a great video opportunity…filming the surprise proposal. What a fun experience that was.  Then shortly thereafter we headed to the Concierge Lounge for a pre-dinner refreshment and appetizer before a great Christmas Dinner. For the Jewish folks aboard a traditional Chanukah meal was also served.
Monday: Cozumel, Mexico -

We arrived at 7am as expected. Our family decided to take it easy as we got off the ship and to then head into port to shop. Wow did that turn into an expensive endeavor as we ended up buying more jewelry to add to our collection.  After that long expedition we just headed back to the ship and hung out enjoying a quiet ship. 

The weather was nice and the seas around Cozumel were calm. In fact the trip was calmer than I experienced two weeks before sailing the exact same route.  It just reinforces that day to day the weather can change making sea conditions different on each cruise. This is of course one of those questions so many people tend to ask me when looking at a particular cruise.

Back on the ship I realized how interesting it would be to cruise with maybe just 10-25% of the passengers we have on the ship sailing with us today, as long as we still have all the same space allotted to us. As a regular cruiser it is always fun to enjoy the ship when you can have you pick of venues to enjoy.
Tuesday: Georgetown, Grand Cayman -

Grand Cayman remains one of my favorite ports of call as always. I've been here before where I shopped and relaxed and on other visits where I went out to snorkel and see the stingrays. On this beautiful day I decided to go check out Seven Mile Beach where we rented a couple of chairs and an umbrella for enjoying the beach while other family members enjoyed the water at that same beach. It was a great experience.

After enjoying the beach for a few hours we headed back into Georgetown to enjoy a bit of shopping and sightseeing. The town was nice as usual. We managed to do our shopping after the other big ship started loading back up their passengers so it was not overly crowded. We leisurely saw a few different shops and decided on some souvenirs. Then it was time to head back for a mid afternoon snack to tide us over until dinner.

When heading back to the Voyager we walked past a huge line of folks trying to catch the last tender back out to the Freedom of the Seas also visiting Cayman. We also saw the NCL Sun in port. I saw several families from that ship show up to the same beach we were enjoying and heard that they too were having a good cruise.

The day culminated with a nice dinner and Tori participating as guest Hostess on the Morning show with the Cruise Director and Activities Manager. She and both of the crew members really enjoyed the fun TV time. Of course we never thought to get it recorded for us to take home.
Wednesday: Falmouth, Jamaica -

Today was another fun day in the Caribbean. We visited the Royal Caribbean dock in Falmouth, Jamaica where we had a chance to pick up some souvenirs and chill out. This is a vacation about relaxing so that is what we did. We did hang out in the port area which is really nice and as safe if not safer than any other port area we visit since it is controlled jointly by Royal Caribbean and local authorities and only credentialed Jamaican nationals can visit the port.

Waiting to depart was interesting. There were tons of folks on their balconies watching as we packed up the gangway and untied from the dock. It was probably more people than I have ever seen on the balconies before. I guess because we were done with the ports and heading back to New Orleans with two days at sea in between, it drew a larger than normal crowd.
We collectively watched 4 late buses arrive and people scramble back to the ship. Some though thought it was time to shop and it was ok to make everyone wait for them. The captain blew the ships horn a couple of times and folks got smart and ran back to get on the ship.

We departed into calm seas and a great night at sea. The night was filled with activities around the ship including a Toga party. There was even a midnight buffet on this sailing, a rare occurrence these days at sea.
Thursday: Day at Sea -

Today is an awesome day at sea. There are plenty of activities for all people on board to enjoy. The sun took a break early on while the sky opened up to clean off the ship but came back out late in the morning giving us a nice warm sunny day.

We participated in the Suites and Diamond/Diamond-Plus past passengers appreciation luncheon with the senior officers.  We lucked out and ate with the Guest Departures/Administration officer which is the position that ensures everyone is able to legally get on/off the ship in every port. He really seems to enjoy his job and is married to another crew member who works on the ship as well.

This evening we have formal night again. This is also the evening when we are offered lobster for dinner.  We will see just how hungry everyone is at dinner time and will decide then about what we will do for dinner. Last evening we skipped a sit down dinner instead opting for snack items around the ship during the evening.

Again Tori wanted to go watch the filming of the Morning show so we did so. It is a comical event live in person and still is funny to watch on TV in the morning. After that it was back to watch a football bowl game in the cabin.
Friday: Day at Sea -

We are starting this day off pretty nicely. The seas are relatively calm however there are clouds around the ship so perhaps we will once again run thru the ship wash outside. No big deal for those of us who are primarily on a mission of relaxation today.  I am checking email and watching people in the Royal Promenade right this moment and since I have arrived it is neat to see an increasing flow of people walking around and going to breakfast. The ship is waking up.

It's not as if I was the first passenger awake today, that was hardly the case many were already down here, but it is pretty empty just the same.  It will crowd up quickly and by this evening will be hopping full of folks as we prepare for and watch the final parade of the cruise.  The parades are always a great experience. Where we have our cabin we can go just a few steps to a balcony overlooking much of the promenade so have an awesome view of any parades we decide to watch while on the cruise.

We had to give up any search for more fortune in the Casino early since we entered US waters around 7-8p.m. which closed the casino and added VAT taxes to drinks and anything purchased in the ships on board.  
Saturday: Disembarkation Day –

We arrived on time despite picking our way thru thick fog as we navigated the river. Fortunately the river pilot system is very good and as such the communication between pilots allows navigation despite bad weather.  This was a good start to the day.

Getting off the ship was a smooth process, however involved dragging bags a really long way as it turns out. I think you end up at the very far end of the terminal to process thru the CBP process and then go all the way back to the other end to get a cab.  We grabbed a cab and were at the hotel where we left our car shortly thereafter.

About 6 hours later we were at stop one and 30 minutes after that back at home where our cats and dogs greeted us eagerly.  It is a big longer of a drive than sailing from Galveston but in the end it was a great cruise!
Additional Info on this Cruise