For your discounted Passport and Visa services be sure to enter our account number 45541 in the box on the upper right side of the first screen. This will help save you some money.

Certifications: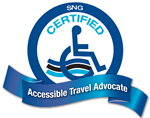 Avalon Waterways - Specialist
Azamara Club Cruises - Five Star Agent
Bermuda Board of Tourism - Bermuda Specialist
Carnival - Bachelors of Fun
Cayman Islands - Dive & Nature Master Specialist
Cayman Islands - Master Specialist Family Travel
Celebrity - Five Star Agent
Costa - Training Academy Graduate
Cunard - Commodore
InnerSea Discoveries - Adventurist
Norwegian Cruise Line - Freestyle Certified
Oceania Cruise Specilist
Princess - Commodore
Regent Seven Seas Univerity Graduate
Saint Lucia Specialist Graduate
SNG Certified Accessible Travel Advocate TM
Disney Magic Western Caribbean
Galveston Western Caribbean sailing October 20-27, 2012
General Comments and thoughts about the ship and itinerary:
The Disney Magic is a 83,000 ton ship (which measures available passenger space not actual weight) with ten decks of space for passenger access. Magic was built in 1998 and Patricia Disney is the godmother. The ship can accommodate 2700 passengers with many cabins available for three and four passengers. The ship is designed with kids in mind.

Walt Disney had a dream which has been carried out in his amusement parks, his characters, his cartoons, and now on his ships. Of course he is not here to see the dream come true, but his family continues on as board members of Disney and do get to watch that his dreams are carried out.
Personally, I've been a Disney fan since I was a little kid and first visited the Magic Kingdom at Walt Disney World. I've now visited all US based parks and even the Disney Land Paris park (to celebrates a major birthday for my wife years ago).  In every park the guests see the Disney magic unfold every day. Even on the ships the crew uses resources at their fingertips to make magic happen every day on the ship, not only for kids but for adults as well.

The ship is in great shape for its age.  There is some rust, but what ship of this age doesn't have any? None I am aware of. The public areas and my cabin were all clean. The crew, keep an eye on the public areas and constantly work to keep it clean. I even saw a deck hand washing the lifeboat containers today, something I've never seen on any other ship. In fact it isn't something we did when I worked at sea every Summer in college. Disney like the other cruise lines do work to keep the ship clean enough it helps eliminate the spread of illness from one guest or crew member to another.

The particular cruise we were on included stops in Georgetown, Grand Cayman, Costa Maya, Mexico, and Cozumel, Mexico. All are ports I've visited more than once before. Cayman is actually my favorite Western Caribbean Port to visit. We departed from Galveston, which is so convenient for our family since it is only an hour drive from the house. The ship was only about 2/3rds full of passengers with a full complement of crew, so the crew to passenger ratio rivaled some of the most luxury ships.

Reports are that 20% of the passengers are adult Disney fans traveling without kids. Most families do have kids with them, maybe not in the same cabin, but within the family unit traveling together.  We've seen several three and possibly even four generation families aboard the ship. It is an ideal way for family to travel together.
Overall this is one cruise hard to beat. The great service and nice ship make it a great way to cruise. The kids aboard all seemed very happy to be cruising, maybe with the exception of the ones cranky from too much fun and a lack of sleep. Of course we see those kids everywhere, not just on a ship.

For those looking for a great deal on a cruise out of Galveston, the Disney Magic thru this season will be hard to beat. There are some deals just not seen on Disney cruises but that are required as the ship settles into sailing from a new homeport. There are even some sailings where kids sail free. These specials make the Disney Magic a great value on top of being a great destination for the service and fantastic way to get to the Caribbean.

Saturday (October 20, 2012) – Galveston, TX  Embarkation day:
Today we left home around 10:45 a.m. and headed to the port. Disney Magic was the only ship in port. This is a new way of cruising for us, since usually we board on a Sunday in Galveston and both Carnival and Royal Caribbean have ships in port.

The crowd was far smaller as we arrived, dropped our bags, and parked. Actually my wife and all hand carry bags were left on a bench to wait for me to park the car and walk back to the port to connect and go check in.  The lines inside the terminal were fairly small as well. We were able to, once thru security, step right up and check-in for the cruise. Everything was already in order due to our checking-in ahead on the Disney website.

Once we had our keys, a picture of both of us was taken, which was divided to give a security picture for each of us. This being done at check-in is a nice feature compared to how many lines do it. We were next off to the pier supervisor to see if we could possibly upgrade to a suite, but unfortunately the only open categories were lower than we were already in so no upgrades for this cruise. Oh well, I had hoped we would move up to a suite, but our cabin is quite nice as it is. We are in a balcony category 5 cabin.  

We spent the rest of the afternoon eating lunch and getting acquainted with the ship. Lots of neat stuff to see on the ship that is unique to Disney. The sail away party is the best I've ever seen on a ship. It is really a family oriented party where the kids are engaged thru the entire party.  Alcohol is served but is not pushed on folks like we see on many cruises.

After beginning dinner in Luminere's we returned to the cabin for a break before going to the welcome aboard show. As Disney is well known for entertainment we had high hopes for a great show and were not disappointed. The show was fantastic. After the show I checked out the beverage station up a couple decks and filled my own water bottles with some soda, which is included in the cruise fare (there and in the dining venues). Soon thereafter it was time to get some sleep.

Sunday (October 21, 2012) – At Sea:
Today I slept in a bit later than normal. It is nice to get a bit of extra sleep every once in a while. The bed was comfortable. When I finally did get up, I showered and headed to get beverage and food. All easily accessible from what I'd call a really centrally located balcony cabin on deck 7.  So far nothing seems like it is too far to go fetch.

I did skip the cooking demonstration because I was enjoying a lazy day at sea. Normally we board in Galveston on a Sunday and have Monday at sea first where I usually get to business of writing articles and the review etc. With today a Sunday there is a bit less focus on checking email in the morning, probably will after the football game though.

We ultimately ended up getting lunch delivered to the cabin so we could watch the Texans and Ravens play football. The game was good, however the CBS feed we were watching was cut over to a different game as we neared the 10 minute left mark. At least the Texans did their job and won the game.

Tonight is formal night and that means a bit more time getting ready for dinner tonight along with the captain's reception. We also change our dining venue tonight to Artists Palate where there will be an artist producing art while we dine. I am excited about seeing the show as I've heard it is a great dinner show. We still need to pick our night for Palo and make that reservation.

Dinner was very nice tonight. Service was a bit slow due to 2 of the couples showing up late. Apparently one couple had a couples massage which ran over. In the end we still made it to the captain's reception after dinner where we were fortunate to chat with the cruise director, Peter from Switzerland. It was nice to hear that there are 157 reported hidden Mickey's on the ship, some easily visible and two never spotted.

We next attended the musical "Twice Charmed" put on by the on-board production staff. The show is a twist on the traditional Cinderella show. It is a fantastic family oriented show with a wonderful ending. We saw many young kids with their parents at the show all being very well behaved. Everyone around us also seemed to really enjoy the show.

We had a great day at sea and look forward to another on Monday. Internet connectivity was good, which is in part probably a function of a far from capacity crowd on the ship this week. I hope to see how well it works on a busy week such as Spring Break week sometime soon.  The dark skies outside are broken by the quarter moon shining brightly illuminating some (few) clouds in the sky.

Monday (October 22, 2012) – At Sea:
The day started out a bit earlier than Sunday. My wife attended with about half of our table mates the character breakfast. I did miss some fun, but was not worried because I've been to so many character dining experiences at Disney World.  I also wanted to get a start on writing some articles for my Examiner.com Houston Cruise Examiner portal. 

Today the ship has many scheduled activities for all aboard adults, family, and kids alone. There is character drawing for families and other classes for adults only. Origami is taught several times thru the day as well. The cooking demonstration today is for entrees instead of appetizers as it was yesterday.  Later in the day we have the option to see finding Nemo in 3D. Many first run movies are shown on the cruise ship. (As the cruise line states Disney owns the movies so it is easy to show first run movies.)

We ended up watching the Disney Vacation Club presentation. They do offer some nice perks for those interested in buying a membership. Disney also has the ability for those buying to use points on the cruises, at the parks, and in various resorts around the world. We did not buy any points, and have heard a presentation once before. It's a neat concept, but we vary our vacations too much for it to make the most sense for us.

It is still early in the afternoon and there are tons more adventures available today at sea. We are due into Grand Cayman bright and early tomorrow morning. We have no specific excursion plans instead leaving our time to visit some shops and also Margaritaville.
Tuesday (October 23, 2012) – Grand Cayman, Cayman Islands:
We ended up shopping in a very sparsely populated Georgetown, Grand Cayman today. My wife will end up with some nice earrings for Christmas. I skipped any jewelry for myself, but did get a pirate costume for Pirate night aboard the ship. I am ready now for the Pirate night dinner and evidentially the evening Pirate Party on the outer upper decks. This is when Disney has the fireworks show at sea.

Tonight is the biggest party of the cruise when everyone dresses up every cruise, this week we also get the benefit of the October month Halloween parties as well. I am certain we will be among many pirates on Halloween party night as well.

The Pirates in the Caribbean party is for all ages. It includes plenty of characters, loads of dancing, and a complete party atmosphere. The show culminates with the only firework show at sea. By luck I managed to stand by one of the areas closed off as a safety buffer zone near the fireworks launching zone. The ship's safety officer, production staff, and firefighting crew are all present with a charged firefighting line to instantly respond should anything go wrong.

The fireworks are shot out to sea a few stories above the ship, but out over the sea so nobody has to worry about ashes falling on them. The fireworks itself last for a few minutes, so it is not the same as watching Wishes or other shows in the parks, but still an incredible show especially at sea. Most would be happy to see this show put on by someone on land.

So far we are having an incredible cruise aboard the Disney Magic.  The ship is aptly named. Magic occurs all around the ship every day. The crew is so good with the children around the ship. All crew pay particular attention to the children and any unique needs of the kids.
Wednesday (October 24, 2012) – Costa Maya, Mexico:
Today we all started our day at sea as arrival to Costa Maya is not until around noon. Based on speed and the map on the television it appears we may be arriving to the port a bit ahead of noon and will be tied up ready for folks to go ashore between noon and 12:30 p.m. but it will all play out in the next few hours.

The weather is nice despite Tropical Storm Sandy (it may be a hurricane today) being a few hundred miles away. We did learn yesterday that both ships due into Grand Cayman cancelled due to the proximity to the tropical storm. We were the only ship in port because apparently Royal Caribbean had canceled their ship's stop in Grand Cayman. 

Today our plans are to just have fun in the port of call. We are not booked on any excursion. Having arrived at the port now, we will soon head ashore to see just what is happening. Docking today was a bit rough on the crew due to strong winds. It just made for a more careful docking procedure, and some extra tosses of the line to the dock to get them onto the dock instead of just in the water. It seems there will be several extra lines out as well to ensure the ship is secure.

Watching the Carnival Valor who is docked next to us, that ship was bouncing all over at her berth. Some of the bow lines were really getting stressed as the ship bounced up and down.  They did have quite a few crew members watching us dock and watching their lines. I am not sure when they sail out but expect to see that happen before too long.

We decided to go enjoy some port time. We walked around the entire port area which was once a bustling port but after a previous hurricane and the pull out by most cruise lines from this port is now a sleepy almost never visited port of call. It is sad to say tired looking with more closed shops than open ports.

We did end up at Senor Frogs for a drink and internet use. Surprisingly they announced a crew party for our ship's crew where they offered $25 open bar wrist bands for sale. Wow, what a deal. We sampled some different margaritas today.

We made sure to be back to the ship to see the Sorcerer Mickey Show at Animators Palate and enjoy dinner, which we really enjoyed. The show was great and dinner was good as well. Our dinner group was down a couple as it has been most nights as folks rotate thru specialty dining. With everyone at the table on cruises away from kids, or working on starting a family, folks are enjoying more date nights.

Halloween activities abound for children around the ship beginning mid afternoon thru the evening. These activities were planned ahead of the late departure arrangements that came about from the Disney Magic winning a prize for the ship at the port.
Thursday (October 25, 2012) –  Cozumel, Mexico:
We arrived in Cozumel quite early. Although the ship was docked early passengers were not cleared off the ship until around 0730 a.m. due to previously scheduled Mexican officials timelines.  Not to worry, when I looked at the dock (we are our side of the ship to the dock) I didn't see any rush of folks off immediately after we were cleared to disembark.

I did take some time to go shoot video around the ship and chat with various crew I encountered. While on my self guided tour I did see several excursion groups meeting up and disembarking the ship. Everyone looked eager to go out and enjoy Mexico.

We had a good excursion into Cozumel on our own. We have been there several times. We took care of some business activities we needed to complete when we had access to well priced long distance back to the USA. We then enjoyed the nice weather and even went shopping some.  By the time we were set to sail we had arrived back to the ship about 45 minutes ahead of the "All-Aboard" time and were enjoying a refreshment and the view from our balcony as we sailed away.

Dinner tonight was the Captain's Gala Dinner. This is one of the few nights where the food served is the same in all dining rooms. It is also "Lobster Night" as it is known to frequent cruisers. Unlike on other cruise lines, our lobsters were huge and tasty. These must come off of adult lobsters where the ones on other cruise mass market lines appear to come from older juvenile lobsters.

After dinner on our way back to the captain we came across a second key officers reception where they were all available for pictures with passengers. They were also all very friendly about chatting with guests walking by. I've been engaged in a week long ongoing chat with the cruise director since the beginning of the cruise. Every time I see him there is always a few friendly words and where time allows a longer chat ensues about how we like the cruise and how my pin trading is going.

The show tonight was Disney Dreams and everyone who I know that attended said it was just fantastic. I opted to do something else at the same time and wish I'd gone to the show instead since it was so well received. Apparently the show is one of the favorite among prior guests based on feedback from those on prior cruises.
Friday (October 26) – At Sea:
The day started out quite nicely with just a very gentle rock. This is in contracts to the far bigger waves we experienced as we departed from Cozumel yesterday. It is always nice for the seas to calm down quite a bit. We are presently riding calmly towards Galveston where we all disembark tomorrow.

We attended the battle of the chef's and I was even selected as a guest celebrity judge. What a treat it was to taste the food made fresh for us for the contest. The food was great making it a nice diversion from the normal lunchtime fare. Tonight we dine in Palo to celebrate the end of another great weeklong cruise, our first on Disney Cruise Line.

We had some snacks delivered to the cabin by room service. It was a nice way to kill a bit of hunger while retaining an appetite for our meal at Palo tonight. In speaking with others who have dines in Palo we hear everyone goes away very full as tons of food is served to each guest.

Tonight the show is "Remembering the Magic" in the Walt Disney Theater. We will be going there ahead of our dinner time.  It is to be a summary show of everything we've seen on stage so far. I look forward to the show especially since Disney seems to get it right on every cruise and show they put on.

The other big show being talked up is the grand farewell show put on by all of the characters. It is held in the lobby by the area where all of the character meetings tend to occur. It is not a space big enough for all cruisers to convene but it should be just fine.

In all the shows were a great way to end the cruise. We still had to spend a bit of time packing, but due to our willingness to carry everything off ourselves, there was no deadline, so we were done by midnight.  We had a short sleep and woke up with great anticipation of heading home to see family who could not cruise with us.

Saturday (October 27) – Galveston arrival and disembarkation:
We docked around 6:30 a.m. and about an hour later were allowed to depart the ship in the first group of passengers. Ironically unlike most cruises where tons of folks pour off the ship at the first call, it was a fairly small group who chose the self disembarkation option this day. We walked to a line of only 3-4 folks ahead of us to clear immigration and customs. From there we walked to the parking lot dragging all our bags with us. I grabbed the car and came around to the side where my wife and the luggage were waiting and loaded it all up.
We were at the house a couple minutes past 9 a.m. which is pretty good time considering we only started disembarkation a bit after 7:30 a.m. and had to clear CBP and get the car before driving home. No complaints, from us as this was by far the smoothest disembarkation process we've seen in Galveston. It helps that we did not have a fog delay coming in.
Additional Info on this Cruise