For your discounted Passport and Visa services be sure to enter our account number 45541 in the box on the upper right side of the first screen. This will help save you some money.

Certifications: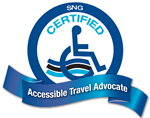 Avalon Waterways - Specialist
Azamara Club Cruises - Five Star Agent
Bermuda Board of Tourism - Bermuda Specialist
Carnival - Bachelors of Fun
Cayman Islands - Dive & Nature Master Specialist
Cayman Islands - Master Specialist Family Travel
Celebrity - Five Star Agent
Costa - Training Academy Graduate
Cunard - Commodore
InnerSea Discoveries - Adventurist
Norwegian Cruise Line - Freestyle Certified
Oceania Cruise Specilist
Princess - Commodore
Regent Seven Seas Univerity Graduate
Saint Lucia Specialist Graduate
SNG Certified Accessible Travel Advocate TM
Island Princess Trans Panama Canal Sailing
Ft. Lauderdale to Los Angeles April to May 2012
General Comments and thoughts about the ship and itinerary:

My first impression of both Princess and the Island Princess comes from the ground handling staff in Ft. Lauderdale. Then once checked in the folks we met aboard the ship itself. This is my first time aboard a Princess Cruise (and is a reward offered to me and other travel agents who achieve Princess' highest level of training and certification.)  I've sailed (and paid for my trips) on Royal Caribbean and Celebrity and have enjoyed their ships and crew. I expected the same on Princess.

My initial impression was that there was a bit of disorganization due to some unknown delay in checking folks in, but on the other hand they had seats for several hundred folks waiting to be checked in, so that really makes up for having to sit and wait for the check-in which was expected to already be processing folks thru.  My guess is the delay was due in part to the vast number of travel agents touring the ship as part of Cruise 360 in Ft. Lauderdale.   Once we were called to the check-in counter we were processed thru and went aboard the ship relatively quickly.

My first impression of the ship crew, which is most critical to most passengers since you will be with them a long time, was and remains favorable.  All crew I've walked by have given a pleasant greeting upon our entering their "greeting zone".  When first entering the ship there were several crew there ready to help answer questions and direct folks to their destinations. They were also ready to answer questions passengers may have. I give an especially big kudos to our cabin steward who happened to be adding the final touches to our cabin as we dropped our bags. He is very accommodating and friendly. When he came by with his checklist for special requests, he spent 10 minutes answering any questions and making sure he knew anything about us he needed to know to ensure his service to us would be as good as possible.
I will definitely cruise this ship and Princess again. The service by the crew was really quite nice and the amenities as an Elite Princess Past Passenger really make it hard to beat.
Day by day review of my trip:

Thursday 26 April 2012 (Houston to Ft. Lauderdale):

Today we hopped a United Airlines flight (former Continental crew best I could tell) non-stop from Houston over to Ft. Lauderdale. We departed late due to our cabin crew not making it in from San Antonio due to a broken plane in San Antonio.  A standby crew was assigned our flight and arrived to the plane right about the time we were due to depart. In the end we were about 25 minutes late into Ft. Lauderdale, which did not affect things much at all.

We arrived and grabbed the Hertz rental car I booked form myself.  Next off to our Hampton Inn, same one in Ft. Lauderdale I have used three times now, and each time I've been happy with my decision to stay there.  We dropped our bags and headed out to meet some others we knew would be on our cruise. After dinner with the group it was time to catch up on some work on the computer and then get a night of sleep, as the next day was the big day, time to board the ship.

Friday 27 April 2012 (Sail away day):

We headed to the port aiming to be there around 11am. That should have allowed us to check-in pretty much right away and start enjoying the ship.  There was a small delay and it was closer to noon before we were aboard the ship, but ultimately that was no big deal. We were on and vacation was started.

We enjoyed our first lunch in the dining room. I was surprised at the confusion of the person at the door to that dining room with regards to the ability to allow folks in to eat. It was quickly resolved and we shared a table with a few other folks and enjoyed a nice meal. After lunch back to the cabin to get the bags unpacked and sort out what to do during the later parts of the day. We ended up hanging out until Muster Drill at that point. 
The Muster Drill was probably the most seriously taken drill I've seen. This is my first cruise since the Costa Concordia was sank by it's captain just over three months ago.  Princess did a good job explaining why everyone is mustered in various lounges around the ship.  It seemed everyone was pretty much paying attention and the crew were quite serious about making sure folks understood how to wear their lifejackets.

Dinner was good and due to the long time we spent eating and chatting, when we got back to the cabin it was pretty much time to go to bed. Besides I made plans (set the wake-up call) to get up early the next morning to work out in the ship's gym. I ended up watching a movie and falling asleep shortly thereafter.

Embarkation day went well and was generally a fun day!

Saturday 28 April 2012 (at sea):

Early to rise, at quarter to six, I was changed and off to the gym in time to grab a machine at six am when the gym officially opened. I was glad to be there when I was since others all showed up shortly thereafter and the gym being relatively small filled up quickly.  After my work-out I grabbed a snack breakfast to take back to the cabin with me.

Upon arrival back at my cabin after a lunch break I was pleased to have an invitation to the Chef's Table event. This is a spectacular dining experience where appropriate wine pairings are part of the meal as is an autographed Princess cookbook. I am excited to be invited to participate.  It is not free, there is a $95 per head charge for participating, but generally more people want to attend than there are spaces for folks to attend.

We ended the day by attending the Captain's welcome reception followed by Formal attire dinner.  The meal was nice and watching the Champaign glass tower get filled as folks poured bubbly for pictures was interesting.  You can see some video of that at our Youtube page.  We also have quite a bit of video from this and other cruises posted at that same spot.

I decided to get some extra sleep tonight so turned in a bit earlier. It was in part to make getting up early to work out easier.

Sunday 29 April 2012 (at sea):

Yes, you guessed it, up early and off to the gym was the first order of the day.  I actually pushed myself today and enjoyed getting a bigger and better workout.  Tomorrow I will probably do weights only, which is just a good part of my overall routine.

I just returned from a walk around some of the outer decks lower down on the ship. The wave action is pretty big today, but we are riding fairly smoothly in the seas. The saves are coming to the Port quarter so it helps with the ride compared with waves hitting us right on the side.  It really is quite a comfortable day at sea so far.

In a while we attend a meeting for those invited to the Chef's Table dining experience. They want to make sure everyone knows the rules about health and safety on the galley tour which is part of the event.  It is an interesting extra step, but at the same time I think it really shows that Princess cares about having folks healthy and wearing appropriate attire for the event.  I can't wait to hear when we actually attend the dinner, and expect it to be a great experience.

The day is going well, however the seas are getting quite rough. Not a big deal to me, but I think some folks are feeling the affects of all the rocking.  It is a non-regular motion due to the way the waves are hitting the ship.  My mom, who is with me on this trip (my wife and daughter could not get away this time) is napping while she waits for her bridge play time to arrive.

Tonight we decided to try Sabatini's for a specialty dining experience. It is Italian themed with very good food and service. It is definitely a longer than normal dining experience as well as offers more courses than the standard dining venues on the ship. It works out to be a really nice meal. I highly recommend at least one night in the specialty dining venue to get a break from the more normal dinner game plans.

We finished the evening by watching part of the comedian/magic show. It was ok. I've seen better shows, but it was far from the worst. I put it pretty much middle of the pack of shows I've seen on a cruise ship.  I would say it good enough that folks would want to see it on the ship. I wouldn't pay to go see it on shore though.
Monday 30 April 2012 (Aruba):

We arrived bright and early into the port this morning. One can look out and see plenty of shops just a short walk away along with a marina filled with lots of nice private yachts.  This is the Dutch playground in the Caribbean.  It is a beautiful morning. I am glad for it because we are going off to snorkel shortly. I hope we have a smooth ride and smooth waters for the snorkeling since fighting big wave action while snorkeling is never any fun.

My only disappointment for the day is our early departure time from Aruba. It does have a lot to do with our time in Columbia and long distance to sail to get there.  We get a good stop on Cartagena though so no big complaints. Then the next morning it will be time to get up bright and early for a day of sailing the Panama Canal. Thus the next few days will be totally port (related) intensive.

We had a great snorkel trip today. The vendor was Red Sail Water sports who tends to provide a quality experience to all of their customers. This excursion did not disappoint. Safety was emphasized but having fun was right there second in line. The folks operating the boat were quite friendly and helpful. I was really glad to have attended the event. We got back in time to run to the grille and pizzeria to get our lunches.

Once back on the ship, I took video and photos of our departure from Aruba.  We were slightly delayed while a passenger in a wheelchair came back to the ship late from either a Princess organized private tour or perhaps the hospital.  I could see the captain on the bridge wing clearly waiting for these folks to return.  Once they were aboard and the last of the Aruban officials off the ship, we kicked into high gear and headed on our way to Columbia sailing not too far off the coast of Venezuela and eventually Columbia. We are sailing nearly the entire coast of Columbia before arriving at Cartagena.

I decided to attend a product demo about the new Nikon cameras sold on land and here on the ship. In fact they covered some cameras not available on the ship. They did hit on other brands as well, but the focus was Nikon. I saw some neat new features not in my current camera, of course all for a nice price. In fact the one camera I thought would be a great addition ends up being about $80 more on the ship than we would pay at our local Sam's Club, based on my wife's research. (She is at home while I cruise this time.)

Dinner will be later than we really wanted tonight but that is ok, we are looking forward to meeting more folks as we dine tonight. So far we have been quite happy with the food on this sailing.  Of course it is fed to us in abundance so that is not good for any diets we are trying to stick to.

After dinner I relaxed and used the computer to keep on writing etc. Internet packages will keep you connected on the ship which is nice. The cost is not as good as you get onshore but you are using a satellite to do all of the connections. Thus your signal makes a 50,000 mile round trip.

Tuesday 1 May 2012 (Cartagena, Columbia):

We arrived mid morning to the port. The ship docks at a shared container and cruise port.  It is not too bad since it is just a short walk over to the cruise terminal. It is an overcast day here in Columbia with a threat of rain coming up. The humidity is much like at home where in the Summer months it is hot and sticky. To that end being here is almost like being at home.

The folks here are friendly.  I remember that from last visit here. We did not plan any tours since we did the one we wanted last time we visited the port here. There were over fifty buses waiting to take folks to shore on excursions so I expect half or more of the ship is off on organized tours. We saw many other walking off to get on their private tours.  Private tours are a good idea as well.  This is one of the ports where having an official tour guide is probably a good idea even though Cartagena is considered a safe city now.

We had to be back on the ship by 2:30 p.m. in order to allow the ship to sail at 3:00 p.m. which is key to arriving on time to the next port of call. Well the next port of call is the Panama Canal and you can't show up late there or you will just have to sail around the Continent of South America. For that reason it is very important we sail on time and are at the Caribbean side sea buoy on time. We have to be there for our reservation time.

We watched the line of folks putt for a glass of bubbly. After six won that glass next up was two bottles of bubble and finally a deck of Uno cards. Everyone really was glad to win their prizes. Many more missed the putt and did not win anything.  We enjoyed watching while enjoying fresh cookies and for me a diet soda. The cookies were plenty of calories anyhow.
Dinner was good tonight. We met more folks from Canada.  About 22% or so of the passengers on this sailing are from Canada so meeting up with lots of them is right in line. So far we have met mostly folks from the British Isles and former British Empire.  I was glad to finish dinner and get back to the cabin though since I am beat tired already.

Tonight will be an early night since it is important to get a good station for watching the Canal transit. I will have to be up early to work-out and get back to our balcony. We will probably wait for the locks on the Pacific side before going to the bow view.

We received information about the transit tomorrow. This is the information we got tonight, so it will be interesting to see how close it ends up being.
The following times are listed as approximate and subject to change:
Panama Canal Pilot on board 0515 Central
Entering Gatun Lock 0700
Leaving Gatun Lock area 0845
Passing Gamboa 1205
Entering Pedro Miguel Lock 1315
Clearing Pedro Miguel Lock 1355
Entering Miraflores Lock 1420
Clearing Miraflores Lock 1520
Arriving anchorage off Fuerte Amador 1630 (no tenders until 0715 next morning)
Wednesday 2 May 2012 (Canal Transit):

Today is the big day. We get to sail from the Caribbean to the Pacific. That also puts Costa Rica closer to being my next stop which is exciting as it is a country I've never visited.  We visited the Panama Canal during a family reunion cruise a couple years ago.

We did actually end up starting about an hour late today for some unknown reason. We are vessel 14 in our convey of 28 vessels sailing thru the canal on the morning grouping of folks sailing thru.  The Gutan locks are quite a nice set of locks where you go all the way up to lake level in one spot. Going back to the Pacific Ocean happens in two spots, one lock that is independent, the Pedro Miguel lock, and a set of two locks the Maraflores locks. This is due to the stability of subsurface earth in the area.

It is rapidly approaching lunchtime. With everyone aboard it will be a busy lunch so I guess we may need to head to lunch soon. Not sure what venue I want to use, it just needs to have some food at it.  (a bit later) the Pizza was good today. I tasted all three kinds and am please to be nice and full.

We are snaking very slowly thru the manmade part of the channel & lake created to get folks from North to South or South to North. Yes, the canal actually runs those directions not East to West as may be expected passing from the Caribbean to the Pacific or vice versa.  It takes about 10 hours from the Sea Buoy to the Sea Buoy on the other side of the canal regardless of direction.  Part of the reason it takes so long is the speed uses is slow to help keep from creating too much shore erosion.

When we arrive on the Pacific side we will go find a good place to anchor for about 24 hours. No tendering begins until tomorrow morning though.  Mom and I will tender in and see what is going on after the initial burst of folks head to shore in the morning.  Until then we will continue to enjoy the transit which is only about half complete at this point.

Now we are hitting quite a rain storm. There is plenty of thunder and lots of lightning around. Of course it also puts a damper on the folks wanting to be out on deck. Hopefully the cell is not too long lasting since we would like to get back out to see the next lock that comes up in just a few miles.

We managed to get thru the last locks without any problems. It was super slow going, but that happens, and given the weather was just the way it happened to go. The Mirafores locks were event free and there was no rain for that transit. I managed to get plenty of pictures and even some video from the transit.

We ended up the day at anchor offshore from Panama City, Panama. We could see the other ships following up head out into the Pacific to destinations unknown. We were the only one that circled the fleet of ships waiting to transit to the North, to pick a good anchorage not too far from where we will have our tender arrival port. It is the same place I visited a couple years ago.
Thursday 3 May 2012 (Panama City, Panama):

We spent the night at anchor off the coast of Panama City. It was nice to be able to see the city lights from the ship all night. It is my first time ever at anchor off a destination, all other overnights at a port of call were always tied to a dock so it was a neat new experience for me. 

Tendering is always a bit more of a chore to go to shore. Knowing that, we planned to go later in the morning to the shops at the tender port.  After I worked out I was walking to get some breakfast and saw the first tender off the ship getting ready to go.  After cleaning up and watching the crowd I eventually got mom to head down with me to the tender station to head to shore. I bit afterwards we were on a tender heading to shore.

After our first trip to shore, we came back grabbed the computers so we could enjoy lunch while using the internet. We enjoyed a great lunch at Alberto's Café in the Armador area of Panama City. The beginning of the time on shore was really quite nice. By the end of the time we heard thunder around us so were ready to head back to the ship.

Shopping at the port terminal is quite limited. The Hop On hop off bus has a stop at the terminal area as well, or at least for the days ships are in port.  It does serve as a place to stop and let folks off the ship though.  We did not take the tour because so much of it would be  a repeat of stuff we have seen before and that did not make as much sense for us.
Later today it is dinner time as we sail away for a day at sea on the way to Costa Rica on Saturday morning.  I am looking forward to sail away as we should be doing so around sunset time. It should make for a great view.

It's been another awesome day cruising on Island Princess.

Friday 4 May 2012 (at sea):

I started the day like usual with a workout. It helps get the blood circulating and makes me feel better.  The weather is nice now, although later in the day we are expecting stormy weather. But in the Tropics that is only to be expected during the rainy season like we are in now.

In a while I will go check out both the culinary demonstration as well as the margarita demonstration. It will give me something exciting to do since I enjoy the culinary arts.  The demonstration comes on a sea day which is typical but makes me wonder what repeats or new twists on these kind of events we get Sunday thru Thursday coming up since many things I am used to seeing on a week-long cruise are already showing up.

For lunch I enjoyed the Mexican Buffet. The fajitas were much more to my liking than the ones they served at dinner a few nights back. I plan for a lazy afternoon this sea day.  I have one chore to complete to ensure I get my set of DVDs produced on this cruise. I managed to make it in at least two scenes on the cruise video and expect probably will in the Panama Canal Transit video as well.

After a nap I took a walk around the ship to see what was going on. As always I encountered more of the friendly crew on board. A smile and a how are you this afternoon is pretty normal as you see the crew in passageways.  It is something I seldom see at land resorts and is always very welcome. Of course two weeks with 3000 or so of the same people, it is always nice when folks are friendly to one another.

After walking around the ship more this afternoon, I noted that the first Captain's Circle reception was set up quite early for those at the first dining time. Of course it makes sense since on a longer repositioning cruise like this there are tons of members on board. Thus it is broken up into two sessions to ensure everyone can attend one session or another.
Recommended attire for dinner tonight is formal wear. It is the second one this cruise. We have one more formal night. Personally they don't excite me too much but that is my personal choice. I will share that when I don't want to go formal, I do not show up in the main dining room, instead I eat in alternative venues. 

Formal Dinner after the welcome back party was quite nice. No lobster tonight but a good variety of food just the same. Now I am watching info about the port tomorrow and some of the coffee shopping opportunities. I've set my watch back and will be going to bed shortly. Tomorrow will be an exciting day.

Saturday 5 May 2012 (Puntarenas, Costa Rica):

Today is my first day off from exercise. In fact I will only take the one day off and then work out again the next five days at sea before a three day break and then back onto my normal land schedule for working out.

I woke up early, several times actually. This was because I set the clock back and immediately went to bed becauseI was tired. So I went to bed at nine p.m. and was up bright and early. It was no big deal to me, since getting up a few minutes early and doing a bit of typing to get the blood flowing is a good idea today. (Next five days will be up to the gym as we watch the West coast of Mexico slip by us.

Breakfast was quick and now it is time to organize the things we need for our 10 hour shore excursion. We meet half an hour ahead. I expect we will be nearly 11 hours before we arrive back to the cabin. Tonight's dinner should be interesting since several tours get back after the first seating time and if they are heavily populated tours I'd expect to see a lot of late arrivals. For those like us on anytime dining, I expect to see a huge line right around sail away or just thereafter.  We may try reservations tonight so we can at least skip the long line.

The excitement builds as I anticipate seeing things I have not seen before on a shore excursion in a port and even country that is new to me.  I close in on having been to all Central American countries with this stop.  The weather is somewhat overcast, so hopefully we don't have to contend with too much rain today. If we do that is just the way it goes.  I did see a thunder storm (lightning and heard thunder) a couple hours ago as we neared the port.

The Rain Forest and River tour was fantastic. We have an exceptional guide who I will work with for a private family tour when back in Costa Rica. We saw 39 species of births, several snakes, a few frogs and tons of different plants.  Everyone we encountered was quite friendly as well.  The tour was arranged as a ship based tour but that was in large part due to the lengthy and our desire to ensure we would make it back to the ship on time since the next port is the disembarkation port of Los Angeles. Thus missing the ship in Costa Rica would be quite a problem.

This evening we are taking it easy and going for alternate venue dining. That makes it easier on us since otherwise we would have to clean all up to go to the main dining room for a two hour experience with strangers again. I am not really keen on that anyhow for myself and after 10 hours gone from the cabin already we don't need to get stuck to our seats for a long period of time right now.

Sunday 6 May 2012 (at sea):

This morning I got up and worked out again. Glad I am getting to a point I can increase weight levels again on the resistance training. A good two plus months of work is paying off there and it is more exciting to do some of the weight level increases at sea so when I go back into the gym I can be proud of having kept up my workouts.  After the workout to the buffet to get some chow.

In the buffet I found one of the grossest things I have seen in the buffet. One lady picked up food with her bare hands felt it all over and put it back picking out a different item again with her bare hands.  It was not as if the tongs weren't right there in front of her, she just didn't want to use them but instead wanted to contaminate a huge platter of food. Rather upsetting to me to see a grown adult act this way, and worse cause the waste of a whole platter of food.

Next on the agenda is to get ready for the day, take care of a couple of minor chores and then get online for a chat with my wife and daughter who are at home this cruise.  After than I plan to go see another pastry chef demonstration where they will show off their marzipan figurine making skills. It would be a great, hands-on experience but I doubt they will be doing that.

Many activities associated with cruises are taking place today as we are at sea. It makes up for a bit of a slow start the first couple of days on the cruise, but I suspect they wanted to spread things out so there would not be too much repeating of activities on the final five sea days, of which today is the first.  I enjoyed watching the Marzipan demonstration and most recently the pool volleyball tournament. I had a snack lunch on deck while watching the volleyball.

Today ends with the Chef's Table experience. It is $95 as of this cruise and includes wine pairings with each course. The price is well worth it given all the wine served; did I mention it is unlimited pours at the meal?  This was a fantastic experience which is why it is so popular.  On this sailing apparently they held 3 separate nights of the event.

We had far more courses than at a normal dinner aboard. We had bubbly with the pre dinner bites to open our palate, followed by white wine with the risotto and red with the surf and turf main course.  We has a sweet wine to finish it off along with huge sugar swans (pulled hard sugar) on a plate of hard colored poured sugar. The plat featured a number of other sweet endings as well and to top that we had a passed platter of sweet endings.

What really added to the experience was that half the kids from the sailing were at the next table over and they were in awe of what was served. The Executive chef went out of his way to entertain the kids (and their parents and grandparents) with chef's hats and some risotto along with the spare pulled sugar swan which I think really got the kids excited.  I was the only one to taste the swan, but then again I wanted to see what a pulled sugar demonstration tasted like.

By the end of the night it was time for bed and a good night rest before the tour tomorrow morning.

Monday 7 May 2012 (at sea):

Today is the day of the Ultimate Ship Tour. This is one of the newer on ship experiences offered by Princess and copied by some of the other cruise lines. Princess charges $150 as of this cruise, which is pretty much what the other lines charge as well.  It tends to be somewhat costly but in the end you come away with "gifts" from the experience, that really add up to what the experience would cost anyhow.  Seeing the behind the scenes spots around the ship is quite nice as well. Several are areas that before the tour were never seen by guests.

We meet at 0840 three decks down from our cabin, so not too far to walk. I plan for us to get there early and see if we can take cameras or not…officially the answer is no, but I've heard that some ship do allow it.  We went down a few minutes early and found no cameras with anyone. Instead they provide several pictures as a memory of the tour.

The Ultimate Ship Tour was a fantastic tour which actually lasted nearly an extra hour due to the passion of the crew in all the areas we visited.  We visited the laundry, food stores, the galley, the print shop, the photo shop, the bridge, the engine control room, and the medical facility. There is quite a bit of stuff to see during the tour.  The tour runs quite well with a tour director, a security officer, and photographer going around most spots.  I'd highly recommend it for those who want to see more than just what every other passenger sees.

The rest of the day was filled with relaxing. Most other folks around the ship were between activities they wanted to do and resting as well. In fact several times I went thru common passenger areas and saw few other passengers. I think a lot of folks are chilling on their own balconies since up by the pool you would find only a reasonable number of passengers.

Tuesday 8 May 2012 (at sea):

Today like most others I got up and worked out. After working out, I ate something and then washed up so I could walk around the ship and look like a normal passenger.  From there I ventured around the ship in pursuit of the perfect pictures and some casual chat with crew I encountered.

Many of the crew are really excited when passengers stop to just plan chat with them. Often certain types of crew are ignored by most passengers most of the time. They seem to enjoy in some casual conversation about things like the ship and the cruise. I joked with one who was checking out some updated security stations about having to pass thru security going to/from one end of the ship from the other.  He laughed and said it was just a test of new equipment.
As with day one on the cruise, most all crew I encountered were quick with a hello etc…It is a very nice thing to see. Even most other passengers today were quick with a greeting if they were walking by me when I was walking by them. 

As I walked I saw ship maintenance in process in one spot as well as general cleaning and preparation for another active day at sea aboard the ship.  The passengers are waking up and kicking off their days as well. Many were still eating breakfast while others are already in the pool while many others have staked out their spot by the pool where they can see the Theater Under the Stars screen.

Lunch was good, more pizza…always nice to get fresh pizza not too many steps from the cabin. Of course not getting enough exercise to go get the food is never good either which is what can easily happen on a cruise ship.

I participated in the Walk for the Cure to help raise awareness and money to treat breast cancer. This is the charitable cause supported by Princess. Not only do they ask cruisers to help raise money for the cause they donate a matching donation dollar for dollar what is raised on the ship in their support of breast cancer research and work towards a cure.

Dinner service tonight was the best I have seen during the Anytime Dining process. I plan to ask for the same waitress tomorrow and Thursday night. Shortly we can see the International Crew Talent show. That should be a pretty neat experience.

Wednesday 9 May 2012 (at sea):

Today is another day at sea. We are hugging the coast of Mexico' Baja area. With roughly 36 hours of forward steaming ahead we are quickly approaching the end of the cruise and for me the time to hop on a plane to get home to my family.  In fact as I write this we are passing Baja Maria.

I did attend earlier today another Culinary demonstration. It is a mix of a demonstration and entertainment which really works together well. We are fortunate to have a great Executive Chef and Maitre 'd Hotel on this sailing. I did not attend the galley tour that followed immediately thereafter since I have been in the galley twice this week already.

I don't have too much to say about today because it is a leisurely day at sea.  We do have formal night and the Captain's Gala Dinner to attend. That makes it Lobster Tail night aboard the ship. 

Thursday 10 May 2012 (at sea):

Today is very overcast and honestly cold out.  I didn't get a chance to let that soak in as I pulled my normal early rise and workout morning.  Once that was over I was instantly frozen while walking from the back of the ship to the front to get food. Definitely could measure a wind chill out there today.

Today is filled with many last minute activities as we prepare to dock in LA tomorrow where mom and I get off the ship. There is an ice carving demonstration, a navigational lecture, and the navigational chart from the cruise will be auctioned off at 1:30 p.m. today. I will be there to bid.

The last night of the cruise is always fun and interesting at the same time. I look forward to getting organized after the morning cleaning of the cabin. Then I will be anxious to get a good night sleep and head home to family tomorrow.

Being another sea day with no other really specifically exciting activities there is not a whole lot for me to report today.

Friday 11 May 2012 (Arrive Los Angeles):

Today we fly back to Houston after getting off the ship. We are joining a couple other folks in a private minivan ride via the High Occupancy Vehicle lanes to LAX for our flight. We fly United Airlines home just like we did flying to Ft. Lauderdale.

It is always good to get home at the end of a cruise or any other vacation for that matter. I look forward to seeing my wife, daughter, cats, and dogs. In a day I will head off to go see all the cattle at my ranch.
Additional Info on this Cruise