For your discounted Passport and Visa services be sure to enter our account number 45541 in the box on the upper right side of the first screen. This will help save you some money.

Certifications: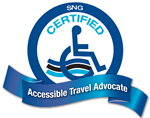 Avalon Waterways - Specialist
Azamara Club Cruises - Five Star Agent
Bermuda Board of Tourism - Bermuda Specialist
Carnival - Bachelors of Fun
Cayman Islands - Dive & Nature Master Specialist
Cayman Islands - Master Specialist Family Travel
Celebrity - Five Star Agent
Costa - Training Academy Graduate
Cunard - Commodore
InnerSea Discoveries - Adventurist
Norwegian Cruise Line - Freestyle Certified
Oceania Cruise Specilist
Princess - Commodore
Regent Seven Seas Univerity Graduate
Saint Lucia Specialist Graduate
SNG Certified Accessible Travel Advocate TM
Brilliance of the Seas February 2011
Friday/Saturday – Travel Days:
We started out in an ice storm at home and with our driver navigating alternate routes to get us to the airport…We made it safely. Then because of the extra time we added on due to the ice storm, we ended up at the airport very early, in fact we were in the lounge before we would have been picked up at home. All was well…so no complaints about the early departure even though it cut some of my time with my wife and daughter who are not with me on this trip. We flew Continental Business First over to Frankfurt and on Lufthansa in Business Class to Dubai. There is a huge difference between the business classes each of these carriers offers. As I have read others state, the Lufthansa Business class is closer to a Premium Economy product than an International Business Class, in fact I recall better service in Premium Economy on EVA air than we got in Lufthansa Business Class. We are staying (my parents and I are on this trip) in a Regency Suite at the Dubai Hyatt Regency Hotel. It seems very nice but we just arrived and I wanted to recharge the computer battery and get the first part of this weeks summary in motion. As 2 a.m. is sneaking up on us this is about it for tonight. Sunday –
Pre Cruise Day:
This morning I am starting out in the Regency Club at the Hyatt enjoying breakfast and looking at RCCL's Brilliance of the Seas. It docked this morning for its 2 day stat in Dubai. I expect tonight if I am up and watching out the window, opposite side as our room view, I will see a steady flow of cabs taking folks to the airport. Flights tend to fly in and out between 10pm and 5am. I know when we head home we have a flight at 220am. It is very hazy out today, which I guess is probably due to winds blowing the sand out of the desert into the atmosphere over in this area. I will have to ask our tour guide later today when we go on a desert safari for 6 hours this afternoon thru dinner. We will see belly dancing, have a traditional Arabian BBQ dinner and get to do some dune bashing. We were in our room waiting to head down to get picked up for the Safari today and were surprised to be told that the tour was delayed and we were being picked up 90 minutes later than planned. Ok, so we had some more internet time in the lounge instead. Then at our time we headed to the lobby and were picked up…ironically by a different tour company because apparently the one we booked ended up overbooked and as a result we were shifted over to the other operator. The Desert Safari was an interesting experience. I would recommend it to others who have not taken such a tour, but am not sure I would suggest it as a repeat tour on a regular basis. We still have on our agenda a trip to the observation level of the Burj Dubai (new name is Burj Khali). We also plan a city tour of Dubai both of those items will likely be completed next Sunday during our day in Dubai before we fly home. When I sit back and look at the day in its entirety it was a very good day.
Monday – Day 1 of Cruise:
We boarded the ship in Dubai, UAE today. Our hotel is surprisingly close to the cruise terminal, basically thru a tunnel under the winding Dubai Creek which goes thru Dubai. That looks like it would be a quick drive to the port, but alas they have roads that meander around the area to the port entrance and from there back thru the entry and about a mile or two back to the ship. It was a relatively quick process. Check-in and Boarding was among the smoothest we have experienced, especially when taken as a combined experience. Because the passengers trickle in all morning and afternoon it was very fast to get to the check in counter and processed. (They did have to deal with a broken computer at my first check-in station, but I was moved one desk over and quickly processed.) We were on the ship and having lunch when I looked at my watch. It was 12:30 pm then and we left our hotel room a bit after 11:30 and had a bit of a wait for the luggage to get down to the taxi so I'd say from the drop off point at the port until we were on the ship was probably a 15-20 minute total time, and within that we stopped for a water package (for my parents) and to work out the My Time Dining for all of us. On this day we relaxed, walked around the ship and checked it out. It is very much like the Enchantment and Serenade (both are sister ships in the Radiance Class). We had our Mandatory Lifeboat Drill which was a bit of a long drawn out process, always less fun without family in the cabin sitting at the same lifeboat station with me. Ironically, every time I have cruised with family in other cabins we end up at different lifeboat stations, oh well. We enjoyed our table at "my time dining", and then at the appointed time I went to a cocktail party I was invited to attend. After that I was back to the cabin, and due to the 10 hour time difference was out like a light shortly after 10 pm, oh my!
Tuesday – Day 2 of Cruise:
Today we docked in Fujairah, UAE. It is a container ship port where we dock. That is not a big deal, it just means a bit of a trip into town. Besides the towns here are unlike any I've seen in the Caribbean even the more desolate Caribbean stops have more shopping at and near to the port. Here there are no Diamonds International or other similar chain shops found in the Caribbean and Alaska cruise ports. Fujairah is one of seven separate Emirates which make up the United Arab Emirates (UAE). This is one of the poorer Emirates as they do not have oil and gas to sell, instead they mine copper and other natural metals here. Additionally they are the growing hub of East Coast Oceanfront vacations, as this port is on the Indian Ocean. With the highway they are building to Dubai pretty soon they say it will be a 45 minute drive from Dubai, probably a bit more to the airport, but regardless it will make flying into Dubai for an Indian Ocean coast vacation an easier process. We toured the East Coast of the UAE today and saw many things that I'd have never expected to see in a Desert country. We saw mountains which reminded me of Arizona out near the Grand Canyon…then we saw a canyon, which looked like perhaps one small spot in the Grand Canyon, of course here that was the entire canyon, just the small spot. It is a very nice place to visit, however one has to know if you are coming here for an UAE East Coast Beach experience it is unlike a beach experience in the Caribbean. Here you will find modest dress and no comingling of singles on some beaches. It is however rich in Arabian tradition. It is a great place to stop as a cruise passenger for the experience. After departure today, we had a nice dinner, attended the Captain's Welcome Aboard Show and the special performance of the Tango Buenos Aires Production Show. Wow, that was a great show, one I'd love to see on Voyager or some of the other Caribbean based ships. After all that excitement, once again time for bed…and a nice sleep as we make a rather quick transit on down to Muscat, Oman, another oil and gas rich Country on the Arabian peninsula.
Wednesday – Day 3 of Cruise:
I start out today as I watch the Sun rise out of the Indian Ocean. From where we are the next spit of land is roughly across the Indian Ocean, surprisingly in India. It is my first time in these waters and I am happy to report that so far all seas have been very calm. This morning we dock in Muscat, Oman. I expect to have a great time shopping in some of the souks in Muscat and wandering around the city in just a few minutes. And after we returned from the shopping I can honestly say we had a blast…it was fun walking thru the souks. Better was when we walked thru them early, before the Costa guests and tour passengers from Brilliance started crowding…also e went in an alternate way and found many quite souks. I got some traditional Arabian Attire for men, as tonight we have White Night on the ship. I will have on my white Arab long mans ankle length shirt called a kandura along with my checkered red and white head scarf along with the black bands, which is called a guthra. There were some other adventurous guys checking out those outfits in the souks as well. I did not see many ladies trying on the black outfits called abaya and a headdress called a shayla. I ended up also with a traditional Omani head cover it is more or less a hat with no bill. I ended up getting a total of two scarves one is Orange and White and would actually be tied around my head without the black bands. Tonight we have dinner in Portofino and expect great service as is typical in there. Of course we are used to great service at My Time Dining as well, which has been the norm on my past three cruises where I have used the My Time Dining option. Tonight is the Love and Marriage Game Show, not that I plan to attend in person, but it is always a hoot to watch on TV later in the cruise when getting ready or just chilling. It is a highlight of the cruise for many folks to go and watch that show live, although it may not always be appropriate for younger children.
Thursday – Day 4 of Cruise:
Today is our second day in Muscat, Oman. We took one of the RCCL tours, called Fantastic Forts. The tour touts Forts, plural, but in fact we saw one palace and one fort, but the combo of those two stops as well as time in a variety Souk and lunch made for a great tour. We left the ship at 8:30 a.m., and boarded our bus, there were 32 from the ship plus the driver and guide. The bus trip was 2 hours from the ship to our first stop. It was great for those of us who wanted to see the mountains and on a drive by basis some other towns. We got to the palace in the mid morning hours and spent an hour checking it out. It is over 300 years old and was recently restored, including an upgrade to include electricity in some areas. See my pictures for some pictures of the palace and fort as well as the surrounding area which includes Date farms. The tour guide provide a lot of historical information, including that some 40 years ago, the main meals for many Omani's was dates, and until the industrialization of the oil industry about that time the variety of foods available was not there. He shared how marriages are arranged and the dowry is put up by the man (almost like buying) to his wife's account to provide for her if he dies or if he decides to divorce her. He can have multiple wives but each has to get a dowry and each must have a house similar to what was given for each other wife to live in. The guide showed one compound where someone has 3 wives, all are neighbors to one another. The guide shared how the arranging of a marriage works, and specifically hit on the fact that the man does not see his wife's face until the wedding nor her full body (uncovered by the traditional garb) until the wedding night. There were more details about the wedding night that I will leave out here, but will hint that it ultimately goes toward proof the bride is a virgin. We then saw the souk and had a few minutes to shop for souvenirs if we wanted any. We then proceeded into the fort. It is a neat building designed to hold back the enemy forces. Of course since it was built before electricity it was a surprise to see electricity installed now, however you have to walk the steps, there are no elevators. The views from atop the guard towers were amazing, and in a desert you can see for miles as there are few trees behind which you could hide. We returned to the ship 20 minutes late. It was due to an overturned cement truck. Fortunately it appeared there were no injuries, just big delays as a result of the crash. There were though as a result of the primary crash a number of chain reaction crashes (it is a windy mountain road) including one where a truck with spring water lost part of its load apparently as it pulled quickly from the road to avoid hitting another vehicle. In the end we were 20 minutes late and did not hold up the ship. I believe one other tour was also caught in the delay and may have been even later than us, but in the end we sailed right on time. Dinner at My Time Dining table as expected after watching sail away from the Diamond evening event. I finished off the day watching CNN and seeing history made as big changes were announced in Egypt.
Friday – Day 5 of Cruise:
Today is the only at sea day, which you would see as a similar schedule on a Southern Caribbean sailing out of San Juan. Here it is a sea day because in part so much is closed on Friday in this part of the world. I started out my day watching CNN as I got out of bed, and was shocked to see the world was seriously surprised at the change in Egypt had not happened then night before as expected. That seems to be the international news of the day, with a splash of information about snow in the USA. I attended a Seminar at Sea this morning, in my case it was put on by RCCL and about this route and RCCL ships in general. I bring this up because it is possible for me to set up corporate functions/meetings aboard the ships of RCCL. I ate my lunch at Sea view Café, which is a great place to eat a cooked to order meal. The menu is limited but pasta and sandwiches are offered. I was sad to not get my Cuban sandwich I hoped to get, but I guess the Mediterranean and Middle East cruises not know how good Cuban sandwiches are to eat. I have enjoyed them on both South American and Alaskan Cruises aboard other Radiance Class RCCL Ships. My parents found me at Sea View, after which time we ended up out on deck watching the men's sexy legs contest. It was fun to watch. It was interesting to find about 2/3rds of the judges were from the USA yet only 1 contestant was from the USA. Two were from Mexico and the rest were from Europe predominantly from the UK. We are cruising now thru the Straits of Hormuz right now. It is very interesting, almost like being on a road with other cars. Before the haze got really bad it was possible to see the ship in front of us, and we have seen tons of ships on the opposite side of the road. Most are full of oil and I've seen one with a bunch of LNG as well. There have been a couple of cargo ships and even most recently a Cruise Ship, which at the distance looked to be from Princess, although I can't say for certain who it was. Costa has 2 ships in the area so it could have been one of their ships where I just couldn't see their yellow smoke stack. One thing I noticed we are running our radar low down on the ship at the bow which helps us see smaller vessels closer by to us , as we watch closely for any wayward Iranian gun boats or other possible threats to our ship. I am sure the deck officers are busy on the bridge in these very congested waters which do sit close to Iran. At the moment we are on the coast of Oman, the part of Oman to the North of the UAE, and will soon be back off the coast of the UAE. Also today, we enjoyed our second formal night and the welcome back party for past cruisers of RCCL. Then it was time to rest again before arrival in Abu Dhabi.
Saturday – Day 6 of Cruise:
Today we docked in Abu Dhabi, UAE. The port is a bit away from town and has beautiful turquoise waters outside the port area. RCCL chartered Big Bus Tours to get us from the ship into town. While at the Heritage Center (which is walking distance from the big shopping center where the ship's bus drops us off) we got a taste of how houses were built in the past for the desert & coastal communities. Many in the desert are nomadic people so their houses are somewhat portable. We also learned about "air-conditioning" towers, which could easily be built at someone's ranch or lake-house to provide for a cooler place to sit outdoors. The Arab peoples here use them to provide a cooler place in their courtyard. As we finished up at the Heritage center we were approached by a local Arab lady and a European with her head scarf on. The European is friends with the Arab lady and was working on preparations for her official guide test the next day in both German and English. Usually the local Arab women do not approach and speak on a regular basis to tourists, so that in itself was pretty amazing to me. We were offered a free tour around part of the center so the lady about to pass her test tomorrow could prepare by practicing on us. It was a great experience as we learned a lot more than we did by reading the signs alone. Further, my father ended up in the cloak maker shop and was asked to try on the UAE President's personal cloak used at significant governmental official functions. It has a lot of woven gold built right in and costs just under $10,000 US dollars. (See picture in my picture page). We learned more about the traditional garb specifically that women can get designer wear that gets very expensive these days. Also, the covering of faces is truly up to the individual here in the UAE. As I sit on my balcony watching folks arrive back at the port I noticed a number of travelers just now joining the ship which to me is quite amazing. Thus, I have to do a bit of g to figure out what happened. I don't believe people are able to join n two different ports, and if they are, I would be somewhat amazed especially since it is not advertised that way in the USA at least. I also am watching a number of my fellow passengers arrive back from touring and shipping. Again, I am amazed at how some folks don't feel it's necessary to dress modestly here where numerous informational blurbs around the ship suggest doing so while ashore in the UAE and also in Oman. At the moment two tour bus loads of transfers as well as a tour bus of folks back from a tour all just arrived back to the port. It is funny to see many of the folks dashing fast as they can to beat everyone else back on the ship. Perhaps they need to hit the facilities sand want to be sure there is toilet paper. As I watch the port, I see a load of Chevy Suburban and Pick-up trucks on a car carrier leaving the port, all helping balance trade a bit between the USA and UAE. We of course get a fair bit of oil from them. We likely also import dates from this region, and oh boy are that super tasty…never had them so good before. Tonight is another specialty dining experience in Chops Grille. We find that to be probably our overall favorite specialty dining experience. We will likely relax as well tonight before a day of sightseeing on our own in Dubai before we fly home. It's always sad as we get this close to the end of a cruise. But, knowing I got to see first-hand what many US citizens, other than those in the military deployed over here (in far less friendly zones), will never see and experience makes it a nice unique experience. It sure helps open eyes and understanding that the cultural differences are not as big as some in the media would have you believe. The people here are actually very nice and peaceful, the cities are generally very safe and for the most part people respect each other, although personal space may be respected differently here than you would think of in the USA.
Sunday – Day 7 of Cruise:
This morning we docked in Dubai where we do an overnight on the ship. Actually we will leave the ship early just before midnight so we can head to the airport and make our way home. It made more sense to cut off our final breakfast than have to get a day room at a hotel before flying out. We headed to the airport around 11pm and got thru all of the formalities and into the business lounge for a 90 minute wait before boarding the flight. Monday – Flying home day: Dubai airport is nice, but the boarding procedure was a complete mess, no order to it at all. We still managed to get out on however then again the flight was not full, there were many empty seats in business class. After more than 7 hours on the plane boarding to getting off in Frankfurt, it is time for a break. As I sit in the business lounge above our gate in Frankfurt, I think how interesting it was to be in the Middle East. Also, think it is pretty neat that for our and one other gate right here, it is super nice that we will board our flight directly from the lounge. Once home it will be time to catch up on work on the plane so when we arrive home there is a bit less catch up still to do. It will be nice to hit the door of the house and see the family who did not travel and all of the pets who are missing me. It will also be nice to celebrate Valentine's Day at Home.
Additional Info from this Cruise