For your discounted Passport and Visa services be sure to enter our account number 45541 in the box on the upper right side of the first screen. This will help save you some money.

Certifications: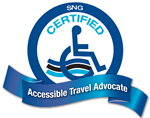 Avalon Waterways - Specialist
Azamara Club Cruises - Five Star Agent
Bermuda Board of Tourism - Bermuda Specialist
Carnival - Bachelors of Fun
Cayman Islands - Dive & Nature Master Specialist
Cayman Islands - Master Specialist Family Travel
Celebrity - Five Star Agent
Costa - Training Academy Graduate
Cunard - Commodore
InnerSea Discoveries - Adventurist
Norwegian Cruise Line - Freestyle Certified
Oceania Cruise Specilist
Princess - Commodore
Regent Seven Seas Univerity Graduate
Saint Lucia Specialist Graduate
SNG Certified Accessible Travel Advocate TM
Disney Magic Western Caribbean
Galveston Western Caribbean sailing Spring Break 2013
If you want to see a daily summary of events see the review I wrote about our October 7 night adventure on the Disney Magic. (Yes, I do repeat some cruise ships when I like the service and ports.) This review is a shorter summary of the overall cruise experience during Spring Break on Disney.

FIRST IMPRESSIONS:                      Other than a snafu with the port and ship computers communicating with one another as we tried to check in, everything went well from the time we arrived at the port thru the ship's departure, marking the true beginning of the Spring Break Vacation cruise.
The ship like back in October is in good shape, especially for her age, and is nice and clean. The crew are out and about always working to ensure the ship remains clean. Our cabin attendant works hard to ensure our cabin is clean of us.

Disney Magic rolls out the welcome carpet to all passengers announcing their family as they board which is a super positive welcome aboard so unless someone had a really rough time getting onto the ship the cruise should start well. In the case of boarding this cruise there were many apologizes for the delay in the terminal, a very nice step.

Overall, as I'd expect our first moments involved with this cruise were nothing but positive.

THE CRUISE:                       Fortunately we were able to outrun the cold front that came thru Texas a day after we sailed. That did lead to some higher seas and more cloud cover. Arrival into Grand Cayman brought warmer weather and few clouds (as my sunburn can attest) which was a welcome site for all. The ship rode well as Captain John's focus is safety 1st and passenger comfort 2nd. Disney is focused on delivering a top quality product over focusing on cutting costs at all expense as happens elsewhere.

Arrival into Cayman was on time and to a beautiful sunrise over the Eastern side of the island. Guess we all know why Sunset house gets its name as that complex faces nearly due West and has a great view of the sunset each day. Our excursion, booked thru Disney's excursions desk was a blast. The excursions manager saw us later as we headed to dinner and stopped us for our feedback about the excursion. It was run by Don Foster's Dive operators, who offer their guests great service. (I'd recommend them for divers spending time on the island.)

Our arrival into Cozumel is running a bit late as we are well off the pier and are due to arrive in less than an hour. I don't know just how late we will be but hopefully it doesn't affect our excursion today.  Watching the bow view, the distance to town looks even worse than the map view.  At least the cloud cover seems less over the island than it did 20 miles out into the Caribbean Sea earlier this morning.  (later) In the end, it all turned into a nice day n terms of sun and no rain. The winds though were blowing nicely out of the North leading to significant wave action in the port and I hear some cancelled excursions.

We soon sail the going home route taken by so many from Cozumel on up to Galveston. The sailing takes about 36 hours to make. Hopefully we will get out of the cold front influenced waves and wind by morning so we can have a fantastic last day at sea.  Seems just yesterday we started the cruise. Now we are on the last 750 miles (approximate) to get back home. It will be nice to be home once again and see our pets.

We are enjoying our last day at sea. The weather is fairly nice, with a bit of chop in the Gulf of Mexico, but not as terrible as it could be. Everyone is running around getting the last minute things done while still at sea. For most of us, the Spring Break vacation ends tomorrow morning. Some lucky families may be on a back to back cruise going out tomorrow for 4 nights at sea with a one day stop in Cozumel again.  So far it appears we will arrive on time in Galveston.  For my daughter and me, we will spend a bit of time in Galveston before heading home capping the trip with a visit to the Railroad museum in Galveston.

My daughter is enjoying a teen spa treatment today after which we go watch the matinee, Broadway style performance and beyond that, a private back stage tour by the stage manager.  I believe we have some souvenir shopping in store for something from the ship to take home followed by a viewing of the movie Oz screened aboard the ship.  All of the events were well done by Disney.  Our final dinner comes up very soon and then we enjoy the thanks for sailing show before packing and getting one final night of sleep on the ship.
CONCLUSION:                   While we have been on the ship before and been to each of the ports many times, we eagerly looked forward to the getaway for Spring Break.

Additional Info on this Cruise
Video from this cruise (from this cruise soon, see others we have posted.)
Pictures from this cruise (See our Pinterest posts)