For your discounted Passport and Visa services be sure to enter our account number 45541 in the box on the upper right side of the first screen. This will help save you some money.

Certifications: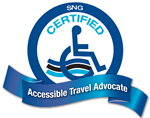 Avalon Waterways - Specialist
Azamara Club Cruises - Five Star Agent
Bermuda Board of Tourism - Bermuda Specialist
Carnival - Bachelors of Fun
Cayman Islands - Dive & Nature Master Specialist
Cayman Islands - Master Specialist Family Travel
Celebrity - Five Star Agent
Costa - Training Academy Graduate
Cunard - Commodore
InnerSea Discoveries - Adventurist
Norwegian Cruise Line - Freestyle Certified
Oceania Cruise Specilist
Princess - Commodore
Regent Seven Seas Univerity Graduate
Saint Lucia Specialist Graduate
SNG Certified Accessible Travel Advocate TM
What is a Group Cruise
All About Group Cruises
Group cruises come in several forms, those which are for groups who all know each other or otherwise have some affiliation and groups arranged by travel agents to get special amenities are another. There are also larger organizations who form groups of folks much like travel agent groups, but usually the organizer is a large organization such as Budweiser or some similar large organization.
Most groups obtain because of their group status special perks offered to the group not offered to all other passengers on the cruise. This is one reason that many cruisers seek out groups and travel agents offer groups. Of course if you have a large group of folks who want to sail with you, forming a group can have additional rewards for tour leaders, especially when they help the agent sell more cabins. For instance group leaders who come to us about groups may be eligible depending on group size and other factors to receive a free berth.
Why Choose a Group Cruise
Choosing to be part of a group is ultimately a personal matter. However when going as part of a group, as mentioned above there are usually perks. They can be any of a variety of special activities or they could be on board credit you can use towards your on board spending account expenses.
On some group cruises there will be parties specifically for the group. In these group parties it's usually an open bar, which can save you some serious bucks if you enjoy several drinks at the party.
Why lead a Group?
Usually, the leader for a group where they provide a lot of the effort pulling the group together will obtain additional special benefits as the group leader. These benefits can include larger on board spending account for their personal enjoyment. They may in larger groups get a free berth or possibly even a free cabin. There are also upgrades and other amenities that help pamper the leader of the group. So, if you have a group of like minded folks who you can gather together for a single cruise give us a call so we can discuss specifics of what we can offer your group and you specifically for helping us get the group from concept to vacation. We are reached at 713-429-1487, all us!
Let us Help you Choose a Group Cruise
Our Own Group Cruises
Check back often as we will be adding more groups. Presently all of our groups are sold out and we are evaluating options for other group cruises to add. If you have a cruise you would like to champion with our expertise backing you up, contact us at 713-429-1487.
Group Cruises We can Access
Presently we have access to many groups sailing on Royal Caribbean, Celebrity, Azamara, Princess, NCL, Paul Gauguin, Oceania, and Viking River Cruises. At the moment we are working towards an automated listing here, until then call us to see what dates we have groups where we can offer you extra amenities. We can be reached at 713-429-1487.
Group Cruises available
We are working with the following groups that have space available for booking. See each specific page for more details about the cruise and the group benefits.
Hawaii cruise from California on October 5th - Celebrity Century