For your discounted Passport and Visa services be sure to enter our account number 45541 in the box on the upper right side of the first screen. This will help save you some money.

Certifications: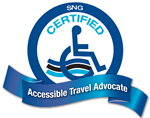 Avalon Waterways - Specialist
Azamara Club Cruises - Five Star Agent
Bermuda Board of Tourism - Bermuda Specialist
Carnival - Bachelors of Fun
Cayman Islands - Dive & Nature Master Specialist
Cayman Islands - Master Specialist Family Travel
Celebrity - Five Star Agent
Costa - Training Academy Graduate
Cunard - Commodore
InnerSea Discoveries - Adventurist
Norwegian Cruise Line - Freestyle Certified
Oceania Cruise Specilist
Princess - Commodore
Regent Seven Seas Univerity Graduate
Saint Lucia Specialist Graduate
SNG Certified Accessible Travel Advocate TM
What to Expect on a Cruise
Transportation & Accommodations
When you book a cruise vacation two key components are covered right from the start, they are transportation between the embarkation port, the ports of call, and to the disembarkation port. Like with hotels and other land based accommodations there are various levels of accommodations from which to choose.
The transportation is pretty much the same and only varies between different ships, with the widest variance being difference between cruise lines. The ships themselves are like hotels with different levels of appointments. There are also different amounts and kinds of public spaces available to the passengers.
Dining
Depending on the ship you may have few or many options for dining. On smaller ships typically few passengers are eating in fewer venues, although the quality of the food is usually quite good. As the cruise ship size increases it becomes a bit more difficult to put gourmet food on the table in front of every guest at each meal. Because of that, the larger ships tend to have many more venues with several that offer food on a cooked to order basis. The cooked to order food in specialty dining venues tends to reach gourmet food levels.
Most ships have set dining times for the main dining rooms. Specialty dining is typically based on reserved dining times although on occasion walk up diners may be accommodated. These specialty venues also often restrict when (or even if) children are able to dine in the venues. Other alternate dining venues typically are open for blocks of time and accommodate guests on a first come first served basis.
Entertainment
Some cruise ships are really known for entertainment. This can be the daily Bingo games, trivia which is typically pretty fun, to broadway production shows at sea. Usually there will be specific guest entertainers aboard which can include magicians, singers, musicians, comics, and other small shows aboard for a short time.
Royal Caribbean is one who has done a great job with entertainment especially aboard the two newest ships, Oasis and Allure. These ships have Hairspray and Chicago running respectively. They also have professional Ice Shows in the ice rink a few times per cruise. That is just the tip of the iceberg.
Sports Activities
On the typical large ship you will find a workout room as well as various sports from mini-golf to shuffleboard and even basketball. At times you may get to participate in dodge ball tournaments. Some ships have golf simulators, ice skating, rock walls, surfing simulators, and even zip lines. Yes, all these things can be found on cruise ships.
Smaller cruise ships may have water sports decks from which you can snorkel at some destinations. They may have small boats to get a few people ashore at a time or even kayaks for exploring. Some of the great smaller ships in Alaska have kayaks so you can getup close to the nature you are there to see.
Other Guests
A topic often discussed by cruise guests is how other guests are dressed or behave. Most folks live and let live, but others get bothered if their fellow cruisers don't follow guidelines about attire in the dining room or other rules set by the cruise line. Among the big issues with cruisers can be chair hogs and inappropriate dress in the main dining room, especially on formal night.
Typically cruise guests get along since it is vacation an everyone ultimately wants to have a good time. It is a good idea to try to get along since there is security aboard the ship and it is best to not have them dealing with you because of inability to get along with other passengers.
Tipping
Tipping usually takes place on the last night of the cruise. This is your chance to show the crew your appreciation for their service during the cruise.
Most cruise lines offer recommended tip levels on a per passenger per day basis. Some lines automatically add them to your charge account on the ship while others ask you to give cash or manually have it added to your ship charge account. Some lines even allow the option to prepay the tips before you even sail. This can be a good idea if you expect to spend a lot while on the ship since it spreads the cost of the total vacation over a longer time period.
It is best to plan at least $12 per person per night of the cruise. If you really like the service you are always welcome to tip more in cash to the crew you believe deserve it.
Read our Reviews
Mariner OTS Western Caribbean