1st Time Cruiser Information
If you have never cruised before here is a page with information just for you. You can also call us to discuss cruising as well.
For your discounted Passport and Visa services be sure to enter our account number 45541 in the box on the upper right side of the first screen. This will help save you some money.

Certifications: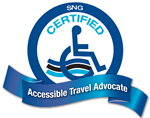 Avalon Waterways - Specialist
Azamara Club Cruises - Five Star Agent
Bermuda Board of Tourism - Bermuda Specialist
Carnival - Bachelors of Fun
Cayman Islands - Dive & Nature Master Specialist
Cayman Islands - Master Specialist Family Travel
Celebrity - Five Star Agent
Costa - Training Academy Graduate
Cunard - Commodore
InnerSea Discoveries - Adventurist
Norwegian Cruise Line - Freestyle Certified
Oceania Cruise Specilist
Princess - Commodore
Regent Seven Seas Univerity Graduate
Saint Lucia Specialist Graduate
SNG Certified Accessible Travel Advocate TM
All About Cruising
What Makes Cruising Fun?
Cruising is a great way to enjoy a vacation with family or friends. It is even a great place to meet new friends, and some singles have reported meeting future spouses on cruises. Cruising these days has something for everyone. A couple decades ago the old saying about newlyweds and almost deads may have been more accurate then but today it's far from accurate. With all the kids activities, sports activities, games, gambling, and much more kids of all ages 1-100 can find something to do on the ship.
Knowing what ship to cruise, when to go, and what destination can all make a difference in how much fun you will have on your cruise. That is why we will talk to you about the kind of vacation experience you want before recommending specific ships, destinations, or even cruise dates.
Why is a Cruise an Economical way to vacation?
Cruising can be a very cost effective way to vacation. Cruises typically include in the base fare all meals, accommodations, stops at various ports, and many onboard activities both inside and outside. Typically there is a pool around which you can sunbathe (yes even near Glaciers) and sip on a tropical drink.
With so much included you have a pretty good idea of your total spend before you go, whereas most land vacations (all inclusive excluded) are set up where a lot of expenses come up as you are sailing. Thus, you don't know just how much your vacation will cost before you go, making it tougher to budget.
Cruises are also great for seeing several destinations in one trip. With a land trip if you move around to different destinations, you would have to pack, travel, and then unpack at a new hotel before you get to enjoy yourself. On a cruise ship the ship is a destination unto itself and all the stops (other destinations) are extras.
Do I get much choice in accommodations, ship, or itinerary?
There are many elements of the cruise you get to impact with selections you make. The destination, your cabin type, when you go, what cruise line, level of service you get, and the ship are all within your control. Of course having a good agency like ours help you make the selection based on our expertise allows you to have a great vacation experience at the right price.
There are destinations all over the work where cruise ships go. There are sea ports and even cities on rivers. Cruise ships come in all sizes from 12 passengers to thousands. Some ply oceans while other run the rivers of Europe and other places around the world. Some are designed to sail tropical waters only while others are purpose built to sail the North Atlantic on weekly crossings from the USA to Europe or back. Other ships are designed for the waters of the Arctic or Antarctica.
1st time cruisers, need to know information
Things to know on your first cruise:
There are many things that are important to know before you cruise for the first time. The information below may not apply to every cruise, but gives you a good flavor of what you need to know overall. Variables that can change the information are departure port and where the ship goes.
Most cruises that originate at a US departure port come back to the same port, thus on these ports the current laws allow travel (on these closed loop sailings) with only an official birth certificate. It is highly recommended though that all cruisers use a US or their home country passport. Passport questions tend to be the biggest questions of all.
While on the ship you will have a card key for your cabin. This same card is also your charge card for on the ship purchases. Cash is not used on the ship except perhaps to tip for good services.
Speaking of tips, for most cruise lines they are not included in the base fare. You may choose to pay them ahead, or if you are choosing my time dining on some lines be required to pay them ahead. Other lines automatically charge a set tip amount to your cabin charge account each day. With some lines if you charge the tips to your account you can not increase or decrease the amounts, while other lines do allow adjustments for perceived poor service, or to reward good service.
Most of the crew with whom you interact the most, dining staff, cabin attendants, and bar tenders (concierge if you are in suites) make most of their income off tips. These crew members typically work hard to make you happy. They appreciate both tips and positive feedback. In fact positive feedback on customer surveys and letters to the cruise line can be the difference in who gets promoted.
All facilities are not open all of the time. This is one item I've seen some guests get really upset when they find out that the ice rink is only open for their use during limited hours, or the zip line is open only a few hours while in port and a few couple hour blocks during sea days. Even the pools are shut down at times.
Although it is possible on virtually every ship to get food 24 hours a day, things have changed and there are fewer buffets at midnight that are showcases of culinary artistry and more focus is put on having food for consumption. With food costs up all lines have to make difficult choices about carrying on traditional buffet displays vs. making sure there is as little food waste as possible.
Dining is a big part of cruising. For some guests the meals are part of the reason to cruise, while for other cruisers it is purely a means to get the hunger under control. Most ships have several different options for dining. There are typically casual dining venues as well as the main dining room. Many ships also have upscale specialty dining as well. Virtually all ships offer in cabin "room service" dining. Typically when ordering room service a tip is provided directly to the server who brings the food. Depending on the ship room service may be off the same menu as is served to everyone in the main dining room or it could be from a more limited room service menu. If you have special dietary restrictions be sure to let us know ahead so we can work with the ship to ensure your dietary requirements are met. If you have special dining requests while aboard be sure to ask your server or the head waiter and they will typically do what hey can to accommodate your requests.
The pools are a great place to relax. Typically bar servers will serve you drinks to your lounge chair. Typically a 15% service charge is added already but you can if you wish add more tips for the server. Some ships even serve food out by the pool so you may have the opportunity to stay by the pool all day if you like. Some ships have pools restricted to adults and separate kids pools and family pools. Most ships have a deck patrol who will move your things if you don't visit your lounge chair often enough (when they don't know you are in the pool). Depending on the line your towels for poolside use are in your cabin while on other ships you check them out near the pool. Either way be sure you put back the same number of towels you use as most lines charge for missing pool towels.
Checking in for the cruise. Typically the check process is spread over a 3-5+ hour window of time, and it does take most of that time to get everyone checked in and aboard the ship. Be sure that when you head to the pier you have your boarding pass and passports in hand. You will hand your checked luggage over to the pier crew upon arrival at the pier and then go thru security to get into the pier facilities where you will check in and be provided with your key/charge card. From there you will have a picture taken for the security system so every time you get off or on the ship they can check your key against the picture to make sure it is really you. Your vacation then begins as you board the ship and enjoy.
At the end of the cruise everyone is assigned a group either by color code or number of combination thereof. The process of clearing passengers from the ship will flow orderly based on moving one group at a time off the ship. The process is in place to ensure there is a constant flow of folks off the ship and that the ship is cleared of passengers timely so they can clean the entire ship top to bottom before allowing the next round of passengers aboard the ship.