Alaska, America's last Wilderness
Alaska Cruising remains one of the most popular cruises for many. It is often a trip of a lifetime. We personally love Alaska and go there as often as we are able.
For your discounted Passport and Visa services be sure to enter our account number 45541 in the box on the upper right side of the first screen. This will help save you some money.

Certifications: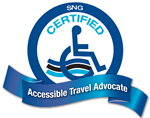 Avalon Waterways - Specialist
Azamara Club Cruises - Five Star Agent
Bermuda Board of Tourism - Bermuda Specialist
Carnival - Bachelors of Fun
Cayman Islands - Dive & Nature Master Specialist
Cayman Islands - Master Specialist Family Travel
Celebrity - Five Star Agent
Costa - Training Academy Graduate
Cunard - Commodore
InnerSea Discoveries - Adventurist
Norwegian Cruise Line - Freestyle Certified
Oceania Cruise Specilist
Princess - Commodore
Regent Seven Seas Univerity Graduate
Saint Lucia Specialist Graduate
SNG Certified Accessible Travel Advocate TM
Alaska a Home Port and Destination
Sailing from Alaska!
For the larger ships departing from or arriving into Alaska, you will need to fly in and out of Anchorage. For smaller ships it varies where you will fly in to catch the ship. Regardless of where you are flying in/out in Alaska, there are tons of activities on the water or land to enjoy while in Alaska. (We have lots of personal Alaska knowledge that will allow us to help you plan pre/post cruise experiences in Alaska.)
Alaska is often called the last frontier in USA with miles and miles of unspoiled wilderness to explore. Alaska is full of wild animals you don't often see in the lower 48. One of our favorite sights is the American Symbol, the Bald Eagle. We've see tons of them in Alaska. You can easily spot bears and moose while exploring the wilderness areas. In addition to the wildlife, there is great fishing, and you can always go see glaciers if in or near to Anchorage or Juneau.
If you have extra time it is worth heading North to see Fairbanks, Denali, Barrow, and other sights around Alaska. Barrow is as far North as you can go on the North America Continent and has nearly 24 hours daylight in the Summer and nearly 24 hours dark during the Winter months. It is on the Arctic Ocean as well.
Denali, the highest mountain in North America is a nature lovers paradise. It is a National Park and access to the best spots for viewing both the mountain and wildlife are well controlled by the National Park Service. It's worth a day of time going further out and soaking in as much as you can in this park, it is definitely a recommended don't miss stop in Alaska.
Fairbanks is the Northern most big city and the folks there know how to enjoy life despite the cold weather. During Winter months they have a huge ice carving display in a park like setting inclusive of an ice slide for the kids. It is all very nicely done.
Alaska should be on every avid cruiser's to do list.
Ships Sailing from Alaska
Alaska bases ships are plenty
Carnival, Royal Caribbean, Celebrity, Azamara, Oceania, Holland America. Princess, and Disney are among the leaders in this market for larger ships. For those who prefer smaller ships with more flexible sightseeing options, call us to discuss sailing with American Safari Cruises, or with InnerSea Discoveries. We can be reached at 713-429-1487.