Bahamas
This is a great Tropical and Sub Tropical series of islands on the other side of the Gulf Stream from Florida.
For your discounted Passport and Visa services be sure to enter our account number 45541 in the box on the upper right side of the first screen. This will help save you some money.

Certifications: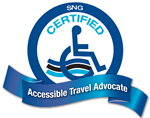 Avalon Waterways - Specialist
Azamara Club Cruises - Five Star Agent
Bermuda Board of Tourism - Bermuda Specialist
Carnival - Bachelors of Fun
Cayman Islands - Dive & Nature Master Specialist
Cayman Islands - Master Specialist Family Travel
Celebrity - Five Star Agent
Costa - Training Academy Graduate
Cunard - Commodore
InnerSea Discoveries - Adventurist
Norwegian Cruise Line - Freestyle Certified
Oceania Cruise Specilist
Princess - Commodore
Regent Seven Seas Univerity Graduate
Saint Lucia Specialist Graduate
SNG Certified Accessible Travel Advocate TM
The Bahamas
This chain of islands sits just offshore Florida's coast
The Bahamas claims host to many private island stops for various cruise lines. They also host regular stops in Freeport, and Nassau. The private islands are all about beach visits with various special other features such as zip lines, dive operations, and inflatable beach/water toys and slides.
The Bahamas is famous for various specialty seafood dishes so be sure to ask when you are in town what is best to try on the particular island.
You can sail to the Bahamas on most weekend cruises and even short 4 night cruises sailing out of Florida. It serves as the nearby foreign port near to Florida that allows folks to come home with duty free goods and beverages.
If you want to sail to the Bahamas, call us to discuss what ship and sailing is best suited for you. We care available at 713-429-1487.